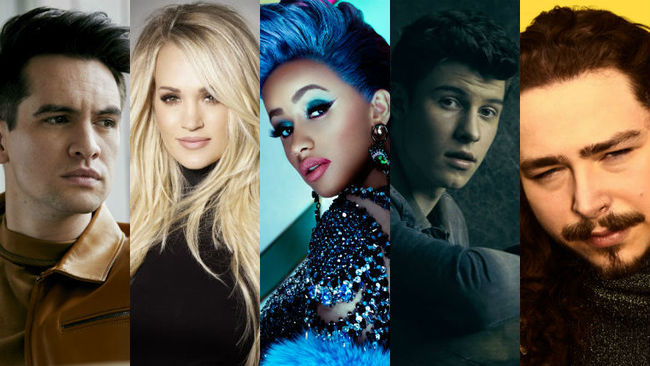 iHeartMedia and Fox Broadcasting Company (FOX) announced today the nominees for the 2019 iHeartRadio Music Awards airing Thursday, March 14 (8:00-10:00 PM ET live/PT tape-delayed) on FOX, live from Microsoft Theater in Los Angeles. The event also will be broadcast on iHeartMedia radio stations nationwide and iHeartRadio, the all-in-one digital music, podcast, on demand and live-streaming radio service.
Now in its sixth year, the iHeartRadio Music Awards is a star-studded event celebrating the most-played artists and songs on iHeartRadio stations and the iHeartRadio app throughout 2018, while also offering a preview of the upcoming hits of 2019. The 2019 telecast will feature live performances from today's superstar performers, once-in-a-lifetime artist collaborations, celebrity guest appearances and live award presentations in multiple categories. Since the Awards' inception in 2013, the show has included live performances and appearances by such superstar artists as Bon Jovi, Maroon 5, Camila Cabello, Bruno Mars, Taylor Swift, Katy Perry, Ed Sheeran, Big Sean, Rihanna, Sam Smith, Lady Gaga, Madonna, Blake Shelton, Pharrell, Pitbull, Justin Bieber and many others.
"It's no secret why this year's iHeartRadio Music Awards nominees are a Who's Who of music," said John Sykes, President of iHeartMedia Entertainment Enterprises. "These are the artists and the songs iHeartRadio listeners couldn't get enough of this past year. It's going to be an unforgettable show."
Artists receiving multiple nominations include Cardi B, Drake, Ariana Grande, Shawn Mendes, Post Malone, Maroon 5 and Imagine Dragons. All nominees are listed below. For a full list of categories visit iHeartRadio.com/awards.
"Millions of music's biggest fans have once again made their voices heard and, of course, we listened," said Tom Poleman, Chief Programming Officer for iHeartMedia. "What makes our iHeartRadio Music Awards categories so special is that they truly reflect the artists, songs and moments that have defined this past year in entertainment. We can't wait to see who wins."
In addition to being a compelling celebration of music and artists, the 2019iHeartRadio Music Awards will again celebrate the fans, giving iHeartRadio listeners the opportunity to decide winners in several new and established categories. Fan voting will determine this year's Best Fan Army presented by Taco Bell, Best Lyrics, Best Cover Song, Best Music Video, the Social Star Award, Best Solo Breakout, Cutest Musician's Pet and the first-ever Song That Left Us Shook and Favorite Tour Photographer awards.
Social voting begins today, January 9, and will close on March 7. Fans can vote on Twitter using the appropriate category and nominee hashtags or by visiting iHeartRadio.com/awards.