Insomniac announced the launch of Insomniac Music Group, an in-house record label services group overseeing distribution and management of music releases for established and upcoming artists, and serving as the umbrella for the company's own internal imprints. Working within the complete spectrum of electronic music genres, Insomniac Music Group will offer a variety of operational and administrative services for premier artist labels.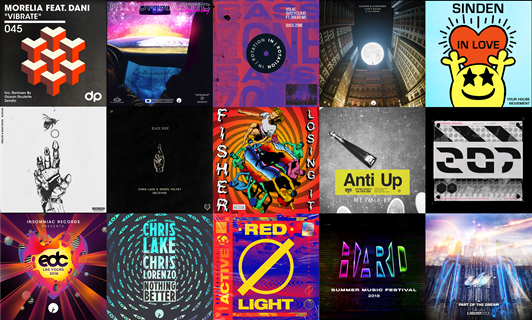 Currently, Insomniac provides label services to some of the most in-demand artists in dance music, including Chris Lake's Black Book Records, Fisher's Catch & Release, and NGHTMRE & SLANDER's Gud Vibrations, among others. Releases currently receiving heavy rotation on the club and festival circuit include Fisher's "Losing It," Chris Lake's "Turn Off The Lights," "Lose My Mind," and "Deceiver" with Green Velvet, as well as the recently-released Hey PabloEP from Anti Up, the newest project from Lake and Chris Lorenzo.
"Having been one of the first partners to back our Gud Vibrations events, for the last 4 years Insomniac has been instrumental in the growth of NGHTMRE and SLANDER's touring business," says Steven Haddad of Prodigy Artists. "It was an obvious choice for us to work with them on the new label. The entire Insomniac Music Group team has been a pleasure to work with and have created a great foundation for our back office, allowing us to focus on A&R and the other creative elements of our label."
"The team at Insomniac Music Group has years of experience, and has been a solid foundation for my label," says Chris Lake. "The way they've helped gain exposure for tracks like 'Deceiver' and 'Turn Off The Lights' has truly elevated the music on Black Book."
The formation of Insomniac Music Group is just the latest power move in what has been a banner year for Insomniac. Insomniac Records, which will now operate under Insomniac Music Group, has spawned Bassrush Records, HARD Recs, IN / ROTATION, Dreamstate Records, and Discovery Project, all serving as extensions to the ever-evolving label, which is dedicated to curating a diverse catalogue of quality releases in all electronic genres. More than just a label, Insomniac Records is a destination where fans of all styles can discover and enjoy top tracks from a roster that includes some of the best DJs and producers in the world. In addition to nearly 200 major track releases since 2016, Insomniac Records has also curated a premier EDC compilation series, featuring four EDC Las Vegas and EDC Mexico master soundtracks. Signing a roster of notable talent including Chris Lake, JSTJR, Redlight, SLANDER, SAYMYNAME and Yultron, Insomniac Records continues to foster the unique talents of dance music artists all around the world. The unparalleled track record of success has pushed Insomniac Records to the forefront of established dance music platforms.