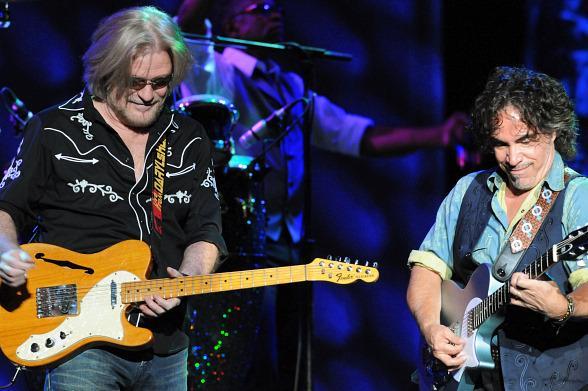 After another incredible touring year, Daryl Hall and John Oates, the number-one selling duo in music history, will return to Las Vegas for three exclusive U.S. dates in March at The Colosseum at Caesars Palace. Tickets for the shows on March 20, 22 and 23 will go on sale to the public beginning Friday, Dec. 14 at noon PST. The limited engagement is presented by AEG Presents and Caesars Entertainment.
Says Daryl Hall, "I've played Vegas many times in my career, so I'm looking forward to bringing our kind of soul to the Vegas Strip with this run of shows at Caesars Palace." Ticket prices start at $59.95 and may be purchased in person at The Colosseum at Caesars Palace Box Office, by calling 866-320-9763, or online at ticketmaster.com. Orders are subject to additional service charges and fees. For groups of 10 or more, call 866-574-3851. Show times are scheduled for 7:30 p.m.
From the mid-'70s to the mid-'80s, Daryl Hall and John Oates scored six #1 singles, including "Rich Girl" (also #1 R&B), "Kiss on My List," "Private Eyes," "I Can't Go For That (No Can Do) (also #1 R&B), "Maneater" and "Out of Touch" from their six consecutive multi-platinum albums — '76's "Bigger Than Both of Us," '80's "Voices," '81's "Private Eyes," '82's "H2O," '83's "Rock N Soul, Part I" and '84's "Big Bam Boom." The era would also produce an additional five Top 10 singles, "Sara Smile," "One on One," "You Make My Dreams," "Say It Isn't So" and "Method of Modern Love." In 1987, the RIAA recognized Daryl Hall and John Oates as the top-selling duo in pop music history, a record they still hold today. In 2018 Daryl and John had a top 10 hit on the AC charts with "Philly Forget Me Not," featuring Train.