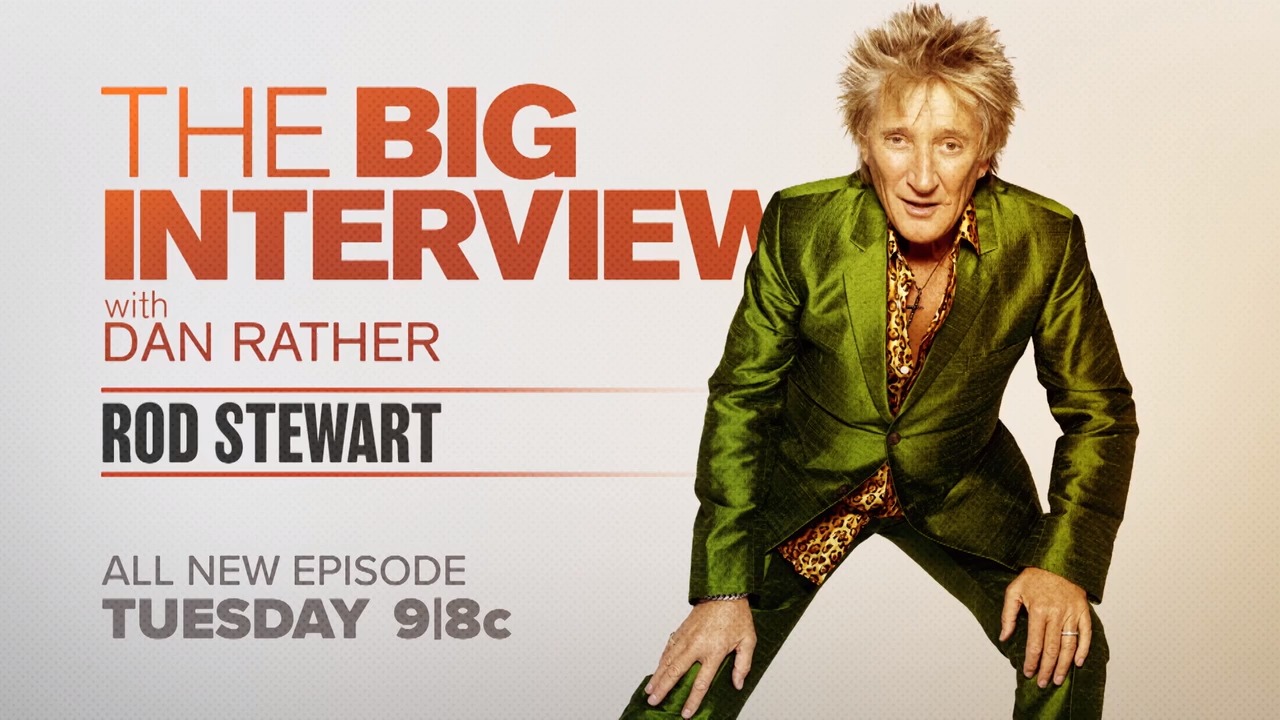 Rod Stewart, the chart-topping hitmaker whose signature vocals have fueled enduring hits such as "Maggie May," "Forever Young," and "Da Ya Think I'm Sexy" en route to selling over 200 million records worldwide — sits down with Dan Rather in an all-new episode of The Big Interview, airing Tuesday, October 9 at 9pE/6pP.
During the candid conversation, Stewart reflects on his incredible 50-year career in music, which included an early stint as frontman for the Jeff Beck Group, performing alongside fellow legends Jeff Beck and Stewart's self-proclaimed "soul brother" Ronnie Wood. In this exclusive first look, Stewart recalls his first time traveling to America with the band, playing the Fillmore East as an opening act for The Grateful Dead. He explains how nervous he was, trying his best to sound more like Muddy Waters so that the audience would better receive him. He reveals, "I hid behind the amps and sang the first two songs, and then the audience went berserk and then I came out. True story." Click here for the clip.
In addition to sharing this priceless anecdote, Stewart opens up about his tremendous passion for soccer and undying support of Glasgow's Celtic Football Club, and gives viewers a firsthand look at the creative process behind his just released landmark 30TH studio album, "Blood Red Roses." "Didn't I," the first single from "Blood Red Roses," has quickly climbed up the charts, leading Stewart to humbly say, "To have this little sweet bit of success in the charts now is just fabulous at my age." Although Stewart admits that it is his least favorite track on the new album, it carries a deeply personal meaning that many listeners can sadly relate to. He explains, "It's a pretty controversial subject… it's about parents that are worried about their teenage kids. I've had a little bit of that problem with my own kids—only a little bit—and it is scary… I think the song is registering with people that have teenagers that are getting into drugs."
The album's second single, the recently released "Grace," is similarly heartfelt — and based on a heartbreaking true story. Inspired by Joseph Plunkett, a leader of the 1916 Easter Rising in Dublin who was captured and executed by the English, "Grace" recounts the man's last wish to marry his fiancé Grace Gifford mere hours before his death. Although Stewart did not write the song, he was deeply touched by it, calling the track "the most tragic love song I've ever recorded… the most beautiful song I've ever recorded." Click here for the clip.