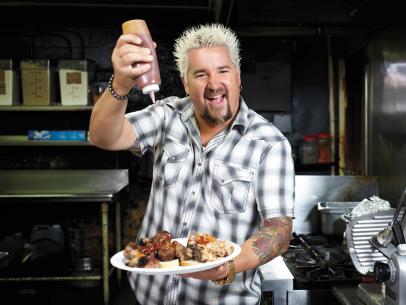 For the first time Guy Fieri is heading back to some of his all-time favorite Diners, Drive-ins and Dives spots on new series Triple D Nation, beginning on Friday, July 13th at 9pm ET/PT. On this all-new spin on DDD, Guy checks in on some of the most memorable joints he has previously visited to see how they have been doing, and to get a taste of some of the new and classic recipes they are dishing out. Whether they have opened new locations, expanded their old ones, or added to their menus, these restaurants are always pushing the boundaries of their culinary comfort zone.
It's a walk down memory lane in each episode as Guy showcases four of his favorite spots to catch up with his chef buddies he's met along the way and see what they have been up to since they last appeared on DDD. From breakfast, lunch and dinner, to sandwiches, snacks and seafood, and to flavors from near and far, it's the best-of-the-best of Flavortown.
On the premiere, Guy finds things have changed a lot for his poke buddies at Big & Littles in Chicago. In Denver, it's a second serving at a unique 'triple threat' location that is part bar, part pizzeria and part biscuit shop, where they are dishing out breakfast biscuit sandwiches and a couple of new late-night Italian options. Over at The Shanty, in Wadsworth, IL, the owner reminisces about how DDD changed his life and his menu with new dishes, including braised pork shanks and goat cheese wontons. Finally, in Seattle, a return to Diners, Drive-Ins and Dives first, and only, Trinidadian joint reveals their new take on an old staple – fry bread.
Fan can go behind-the-scenes with Guy, check out full recipes and scan the best diners, drive-ins and dives across the country on FoodNetwork.com/DDD. They can also hop along for the ride on Twitter with #DDD.