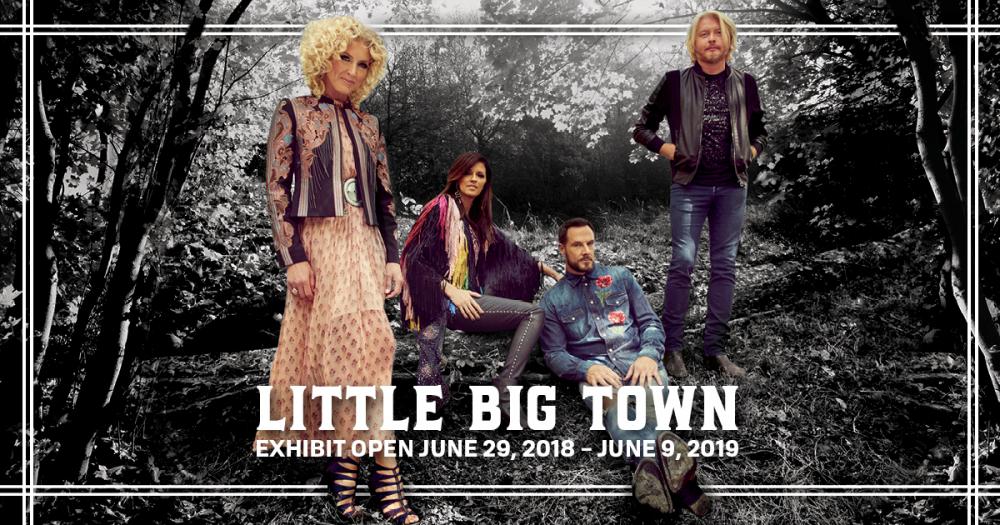 Grammy-winning vocal group Little Big Town will be the subject of a special exhibit, Little Big Town: The Power of Four, opening June 29, 2018, and continuing through June 9, 2019, at the Country Music Hall of Fame® and Museum. The popular foursome will participate in a special program Tuesday, June 26, 2018, in connection with the exhibit. Details for the program appear below.
Little Big Town members are Karen Fairchild, Kimberly Schlapman, Phillip Sweet and Jimi Westbrook. Many of their albums have been top sellers, including The Road to Here (2005), Tornado (2012), Pain Killer (2014), and, most recently, The Breaker (2017). Little Big Town has received six CMA awards for Vocal Group of the Year and three Grammys, among many other honors.
The new exhibit tells the group's story from the very beginning, and includes keepsakes and photos from each member's childhood. The narrative recounts the development of individual talents that eventually brought the four together to form contemporary country music's first two-woman, two-man vocal group. The exhibit storyline recalls early career struggles that ultimately strengthened the group's bond and solidified their resolve to succeed on their own terms. By making bold musical decisions, the members of Little Big Town have joined the top echelon of country music stardom.
The exhibit includes many unique items that illuminate the personalities of group members. Artifacts include a handmade Afghan ceramic pitcher, given to Sweet by an American soldier after Little Big Town performed at a small military base in isolated Tarinkot, Afghanistan. The pitcher broke on Sweet's long trip home, and his wife, Becky, repaired it. Usually displayed in the family dining room, the pitcher is on loan to the museum.
Additional highlights of the exhibition include:
Neon signs used for the cover photo of the album Pain Killer (2014).
Instruments used in underwater scenes in the music video for "Pain Killer" (2014) including:
o Fender DG-60 used by Jimi Westbrook
o Fender Modern Player Telecaster Plus used by Phillip Sweet
BCBG Max Azria linen sundress with crochet detail and Golden Goose boots worn by Fairchild when she married Westbrook in a private ceremony in Nashville, May 31, 2006.
Clothes fitted with glow-in-the-dark, LED tube lighting, worn by Little Big Town for their appearance at the 2014 CMA Awards. After they performed "Day Drinking," the group was joined on stage by pop star Ariana Grande for a performance of her hit "Bang Bang."
Gretsch Electromatic with silver-sparkle top played by Kimberly Schlapman in performances of "Your Side of the Bed."
Childhood memorabilia, including Fairchild's high school cheerleading uniform, Westbrook's trumpet, Schlapman's recital costume and a drawing by Sweet.
Special programming surrounding the opening of the exhibit will include:
Tuesday, June 26 3:30 p.m.
Interview: Little Big Town
Fairchild, Schlapman, Sweet, and Westbrook will discuss their musical inspirations, creative process, and career milestones, as well as their personal histories and the joys and challenges of collaboration. The multi-media program will take place in the museum's CMA Theater. Tickets can be reserved by clicking here.

Saturday, June 30 11:30 a.m.
Songwriter Session: Liz Rose
Grammy-winning singer-songwriter Liz Rose has gained an extensive list of credits throughout her career including the Little Big Town hits "Sober," and "Girl Crush" winning CMA and Grammy awards for the later. Rose also wrote "Crazy Girl" (Eli Young Band); "God Made Girls" (RaeLynn); "Fearless," "Tim McGraw," "You Belong with Me," and Grammy Country Song of the Year winner "White Horse" (Taylor Swift); and songs recorded by Dan + Shay, Tyler Farr, Alison Krauss, Martina McBride, Tim McGraw, Blake Shelton, Lee Ann Womack, and Chris Young. The program, presented by SunTrust will take place in the museum's Ford Theater and will be streamed live at countrymusichalloffame.org
Both programs are included with museum admission and are free to museum members. Limited seating is available, and a program pass is required. For more information on how to reserve a program pass visit www.countrymusichalloffame.org.