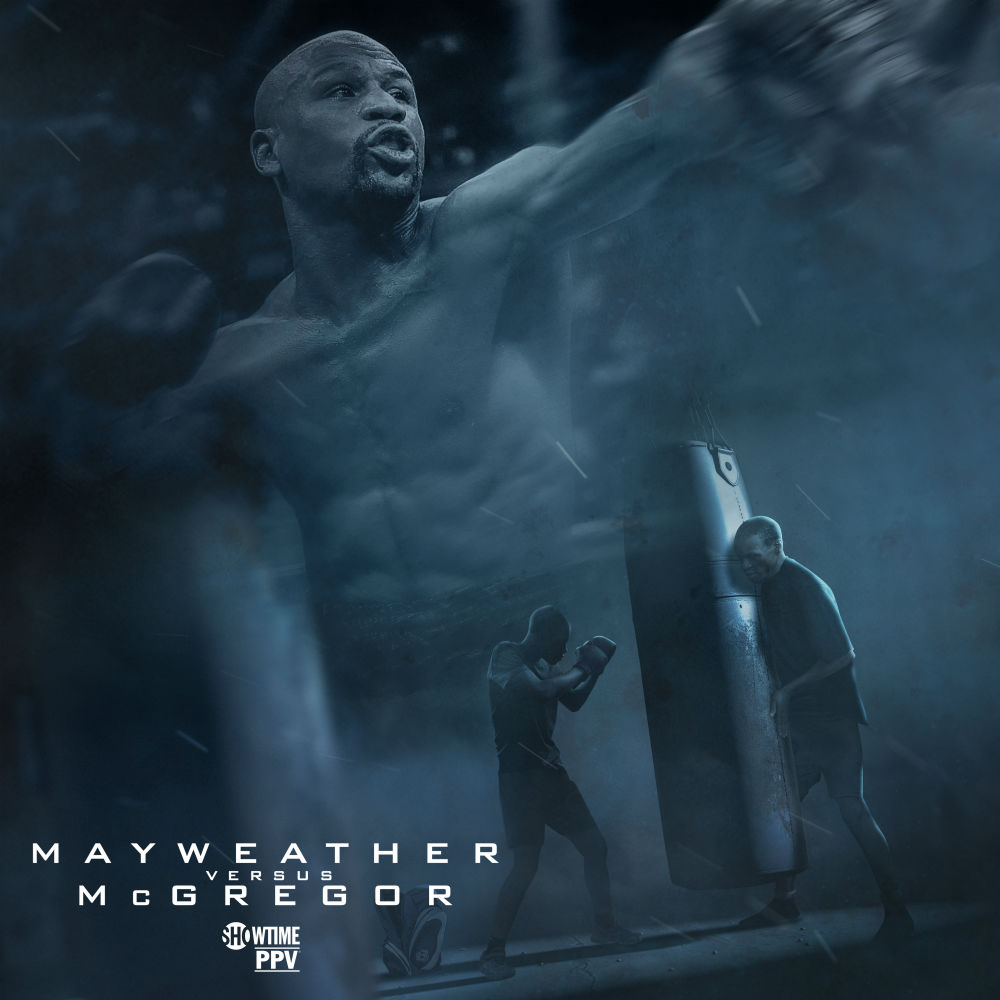 SHOWTIME Sports is placing the spotlight on artists for exclusive video content and artwork for the major fight: boxing king Floyd "Money" Mayweather vs. UFC champion "The Notorious" Conor McGregor.
Enlisting artists Tristan Eaton and BossLogic, and debuting exclusive video content on Snapchat and Twitter, SHOWTIME Sports is maximizing fight week by reaching fans across the worlds of sports and entertainment.
For Instagram, SHOWTIME Sports has commissioned renowned artist BossLogic to create six custom art pieces in his unique superhero and comic style. The art outlines three themes: origin, rise to stardom and victory. SHOWTIME Sports also enlisted screen printing artist Tristan Eaton to create a unique Mayweather vs. McGregor fight poster, which was unveiled on Facebook Live. Thirty fans will have the opportunity to win a print of the finalized poster through trivia. The network will debut custom and exclusive video content surrounding the event on Twitter via @SHOsports.
Following the success of its Emmy® Award-winning series All Access, SHOWTIME Sports is taking a unique, cutting-edge approach to the upcoming SHOWTIME PPV Mayweather vs. McGregor mega-fight, by producing a new Show exclusively for Snapchat, as a series of fast-paced, high energy episodes. The series provides viewers with an intimate portrait of two of the most compelling personalities in professional sports, Mayweather and McGregor.
SHOWTIME Sports will also produce live streams for a number of the events throughout fight week including undercard and main event press conferences, weigh-ins and the post-fight press conferences. Streams will be available on YouTube, Facebook and Twitter. This week, the network also released two custom videos, including a music video with rock band The Killers featuring their hit song "The Man," as well as The Bet – Part Two between superstars Combs and Wahlberg, where they go double-or-nothing on their previous wager from the Mayweather vs Pacquiao bout.
Floyd Mayweather vs. Conor McGregor is a 12-round, super welterweight matchup that pits the legendary boxer Mayweather against the all-time MMA great McGregor in the main event of an unprecedented four-fight pay-per-view boxing card. Mayweather vs. McGregor takes place on Saturday, August 26 at 9 p.m. ET/6 p.m. PT at T-Mobile Arena in Las Vegas. The event is produced and distributed live by SHOWTIME PPV and promoted by Mayweather Promotions. The telecast also will be available in Spanish using secondary audio programming (SAP).