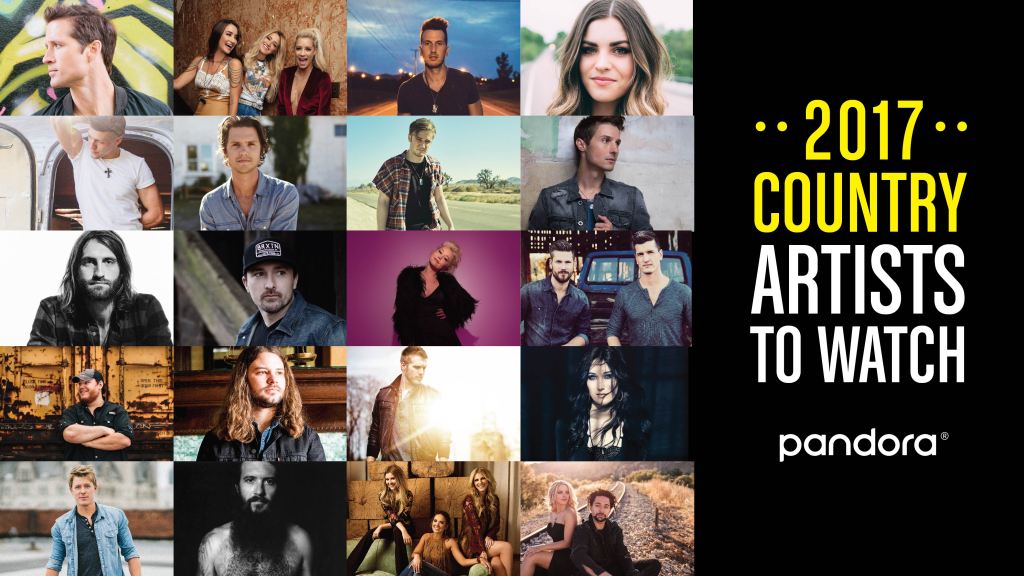 From brand new artists on the scene to talented musicians who are burning up Pandora's New Country station, Pandora thinks these are the country acts who are going to own 2017. Listen here for a handpicked mixtape of all the Country Artists to Watch and more of Pandora's favorite emerging acts (listed in alphabetical order):
Tenille Arts
Tenille Arts is hot on the scene with her new self-titled EP. With songwriting inspired by Don Henley and reminiscent of early Taylor Swift, and vocals the size of her native Canada, Arts' future is bright.
Brent Cobb
Cobb introduces himself as a "songwriter/singer," making it clear that his is the music of a writer first. He inherits the legacy of Kris Kristofferson and Guy Clark as well as the Southern gothic narratives of Bobby Gentry and Tony Joe White.
Luke Combs
Combining energetic country pop and Southern rock, Luke Combs busted through the gates in 2016 with his current single "Hurricane."
Russell Dickerson
For this year's wedding song, look no further than Dickerson's "Yours." He just released a hopelessly romantic EP and is set to kick of 2017 with a new label partnership.
Erik Dylan
Erik Dylan released his first full-length album, Heart of a Flatland Boy, delivering an earthy, rocking sound and with his lauded songwriting skills. For fans of Steve Earle, Cross Canadian Ragweed, Kip Moore and Eli Young Band.
Seth Ennis
Seth Ennis grew up all over the world in a military family before settling in Nashville to pursue a career in country music. A true renaissance man, he sings and plays all of the instruments on his debut track, "Woke Up in Nashville."
Ryan Follese
Hot Chelle Rae singer Ryan Follese returned to his roots in 2016, dropping his first EP as a solo artist in the fall. A Nashville native and the son of songwriter parents, Ryan writes energetic, pop-infused tunes embellished with a hint of southern twang and cool acoustic instrumentation.
Walker Hayes
The Mobile, Alabama native found his niche with timely, spoken word lyrics and visionary instrumentation on his two 8 Tracks EPs. Standout tracks include "Halloween" and "Mind Candy."
High Valley
Brothers Brad and Curtis Rempel built up a substantial fan base at home before moving to Nashville and signing with Warner Music Group. Their sunny upbeat tunes and soaring harmonies speak for themselves, all the while celebrating their Mennonite roots.
Taylor Ray Holbrook
Holbrook got his start by posting a Luke Bryan cover on YouTube, but he's been putting out his own brand of homegrown country ever since moving to Nashville. For fans of Kane Brown and Brantley Gilbert, small towns and entrepreneurial grit.
Ryan Hurd
Aside from penning the music he sings, he has also written successful songs for acts like Dierks Bentley, Florida Georgia Line, Blake Shelton and more. Hurd is paving his way with ultramodern pop-country tracks like "We Do Us" and "City Girl."
Cody Jinks
In keeping with troubadour tradition, the top-quality musicianship of Jinks' band supports his baritone vocals, allowing his voice to shine through. Fans of Sturgill Simpson and Chris Stapleton need to hear this.
Steve Moakler
Moakler traded his singer-songwriter pop for country and has penned cuts with Dierks Bentley, Ashley Monroe and Jake Owen. His lead single, "Suitcase," is catching like wildfire, and we can't wait to see where it leads.
RaeLynn
With a fresh start at a new record label, RaeLynn has found her voice in the tracks leading up to the release of her upcoming album, WildHorse. She got her start on Team Blake during season two of The Voice, and is about to take 2017 by storm.
Brandon Ray
With a start in Nashville as Brett Eldredge's guitarist, Ray is now embarking on a solo career with his newest single, "American Way," which he cowrote with Kip Moore. The similarities to Mellencamp are palpable in this catchy ode to middle American hometowns.
Runaway June
Runaway June is bringing country back in the form of transcendent, three-part harmonies and big voices. The trio includes lead singer and guitarist Naomi Cook, singer and mandolinist Hannah Mulholland and singer and guitarist Jennifer Wayne (granddaughter of the great John Wayne). The group's first single, "Lipstick," is finding fans with its high-energy twang and message of empowerment, qualities reminiscent of The Dixie Chicks and early Shania Twain.
Adam Sanders
Sanders' had songs cut by Luke Bryan, Cole Swindell and Dustin Lynch, ultimately deciding to make a go of it as a solo artist. For fans of Cole Swindell, Lee Brice, and David Nail.
Aubrie Sellers
Aubrie Sellers single-handedly defines a new style of "garage country" with her debut album New City Blues. Daughter of artists Lee Ann Womack and Jason Sellers, she pulls from familial influences and beyond to breathe new life into the phrase, "three chords and the truth."
The Shires
The Shires is a British duo comprised of friends Ben Earle and Crissie Rhodes. With their pop-country sound and stomping rhythms, this dynamic duo is an exciting discovery. If you like Lady Antebellum or Drake White, you're going to love The Shires.
Sister C
Texas siblings Cirby, Carli and Celbi's underlying bluegrass influences are akin to early Dixie Chicks and The Wreckers, but the sound is wholly its own. The sisters combine the best of Texas – western twang and soaring harmonies – with some occasional irreverent lyrics, à la Pistol Annies and Kacey Musgraves.