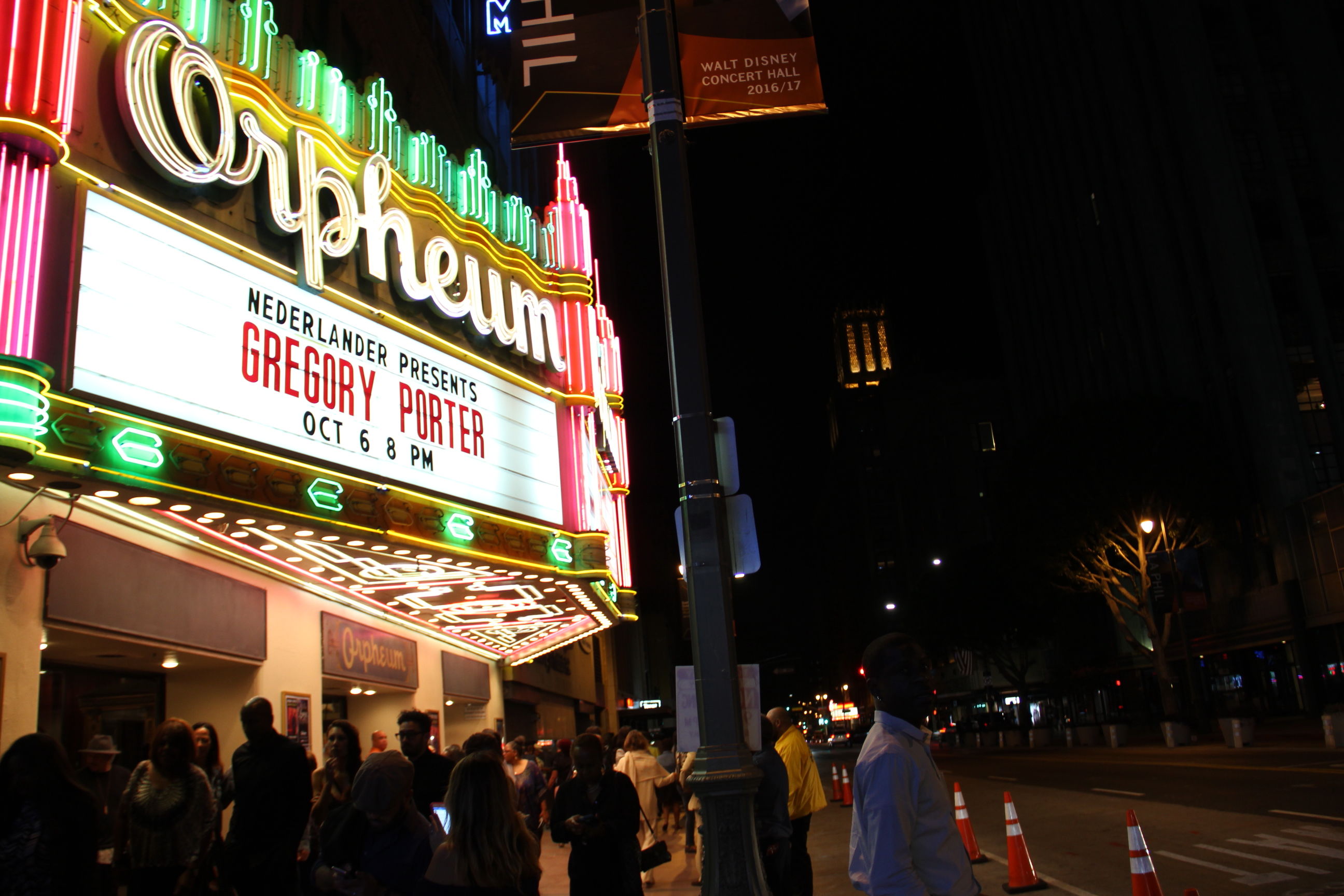 Gregory Porter will give you chills. The first time I heard the jazz vocalist sing was in the comfort of my own home through a bluetooth speaker. And while his voice is smooth and beautiful on record, nothing compares to seeing Porter live in concert.
On Thursday, the Grammy-winning artist performed at the legendary Orpheum Theater in downtown Los Angeles to a crowd of enthusiastic and loyal fans who swayed and sang along to such hits as 'Holding On,' 'No Love Dying' and the title song from his latest album, 'Take Me to the Alley.'
Being a native of Southern California, the moment he stepped on stage wearing his signature hat, it seemed as though Porter felt right at home. At times he flowed from one song to another and in other moments, he stopped to speak about ideas of love and freedom. Porter certainly embodies, not only the presence of a jazz artist, but also that of a soul and gospel singer who can draw the audience in with his words, whether he is speaking or singing.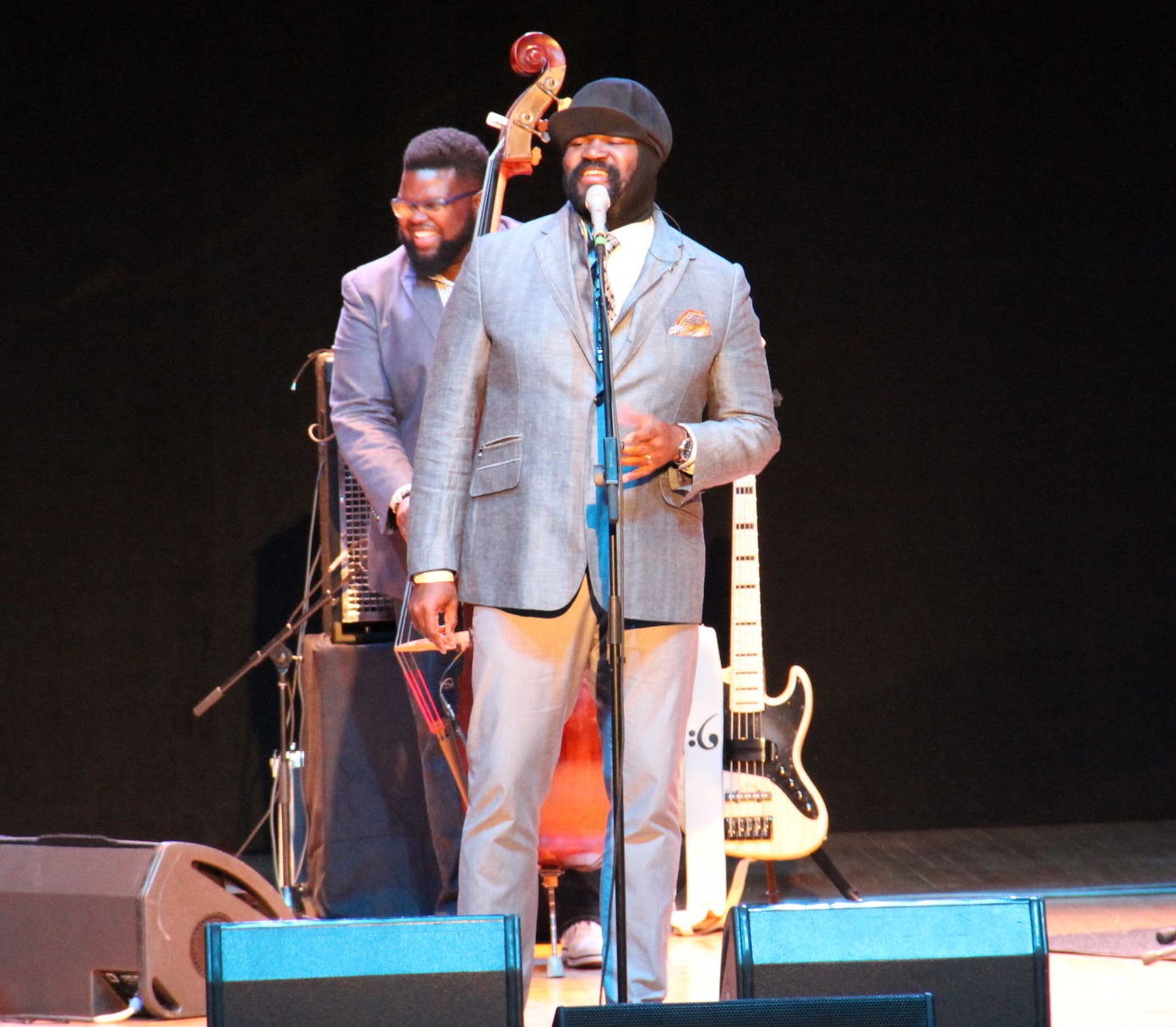 He sang many songs off of his previous album, 'Liquid Spirit,' which won the Grammy for Best Jazz Vocal Album in 2014. The theater energy almost felt as if we were in a church in the South as audience members moaned, whistled, applauded and cheered 'amens' throughout every tune, from 'Hey Laura' to 'Musical Genocide,' 'Be Good' and 'Don't Be A Fool.'
Porter's powerful baritone instrument was complimented by the talents of his incredible band: Lakecia Benjamin (saxaphone), Emanuel Harrold (drums), Jahmal Nichols (standing bass) and last, but not least, Chip Crawford (piano).
Solos from each musician often inspired the entire theater to stand and applaud. Benjamin is no doubt a saxaphonist who is a legend in the making. Over the years, she has played with the likes of Stevie Wonder, Alicia Keys and The Roots. In the spotlight, she is certainly a one-woman-show. Crawford showed off his piano skills with each solo, delicately plucking the strings and hitting the keys for different musical effects.
After over an hour and thirty-minutes, Porter and his band still had the audience in a trance. We were treated to a two song encore before the singer exited. But that didn't stop the band from jamming long after Porter waved goodbye.
If you are a fan of jazz, Gregory Porter should be the #1 artist on your radar. If he comes to a city near you, don't miss this experience. It is unforgettable.
Check out Gregory Porter's tour dates:
| | | |
| --- | --- | --- |
| 09/10/16 | Austin City Limits | Austin, TX, United States |
| 14/10/16 | Chapiteau de la Pépinière | Nancy, France |
| 15/10/16 | Lillehammer Hotel | Lillehammer, Norway |
| 16/10/16 | Cosmopolite Club | Oslo, Norway |
| 17/10/16 | Le Grand Rex | Paris, France |
| 22/10/16 | Halle aux Grains | Toulouse, France |
| 23/10/16 | Musical Theater Basel | Basel, Switzerland |
| 25/10/16 | Queen Mary II | On board the Queen Mary II, NY, United States |
| 26/10/16 | Queen Mary II | On board the Queen Mary II, M4, United Kingdom |
| 27/10/16 | Queen Mary II | On board the Queen Mary II, M4, United Kingdom |
| 04/11/16 | FORUM LEVERKUSEN | Leverkusen, 07, Germany |
| 05/11/16 | Stadthalle Aalen | Aalen, Germany |
| 06/11/16 | Ingolstädter Jazztage | Ingolstadt , Germany |
| 08/11/16 | Koninklijk Theater Carre | Amsterdam, 07, Netherlands |
| 09/11/16 | Simone Signoret-Theater | Conflans-Sainte-Honorine, France |
| 11/11/16 | Heineken Music Hall | Amsterdam, 07, Netherlands |
| 13/11/16 | Tbilisi Concert Hall | Tbilisi, Georgia |
| 15/11/16 | Barclays Teatro Nazionale di Milano | Milano, Italy |
| 20/11/16 | Weser-Ems-Hallen | Oldenburg (Oldb.), 06, Germany |
| 21/11/16 | BASF Feierabendhaus | Ludwigshafen am Rhein, Germany |
| 22/11/16 | Haus für Mozart | Salzburg, 05, Austria |
| 23/11/16 | Museumsquartier | Vienna , Austria |
| 20/01/17 | Jazz Weekend at Renee & Henry Segerstrom Center Concert | Costa Mesa , CA, United States |
| 24/01/17 | Granada Theatre | Santa Barbara, CA, United States |
| 27/01/17 | Jo Long Theatre | San Antonio, TX, United States |
| 29/01/17 | Music Hall Center | Detroit, MI, United States |
| 03/02/17 | The Contemporary Jazz Cruise on Celebrity Summit Cruise Ship | Fort Lauderdale, FL, United States |
| 17/02/17 | LPR Presents at The Town Hall: Gregory Porter – Annual Valentine's Concert | New York, New York, United States |
| 14/04/17 | Byron Bay Bluesfest | Byron Bay, NSW, Australia |
| 19/04/17 | Klub Wytwórnia | Lodz, LD, Poland |
| 25/04/17 | Compensa Koncertų Salė | Vilnius, Vilniaus, Lithuania |
| 27/04/17 | RADIANT | Caluire Et Cuire, France |