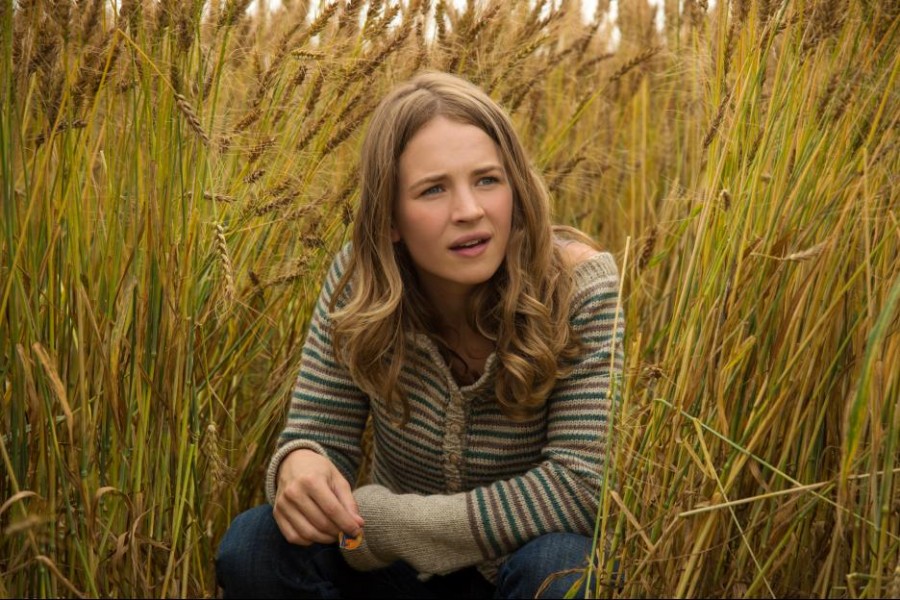 Photos: Disney Pictures
As the "Pirates of the Caribbean" franchise clearly demonstrated, there is plenty of loot to be reaped from films based on theme park rides. This time around, rather than focusing on one specific ride, Disney has used an entire land within its theme parks as the basis for the mind-blowing fantasy adventure, "Tomorrowland," starring George Clooney, Britt Robertson, Hugh Laurie and Tim McGraw.
From filmmaker Brad Bird ("Mission: Impossible – Ghost Protocol," "Ratatouille"), this futuristic confection is the sort of captivating crowd-pleaser with something for everyone: wild action sequences, eye-popping cinematography, high-tech gadgetry, an emotionally rewarding storyline – the works. With a well-oiled screenplay by Bird and Damon Lindeolof ("Lost") that expertly incorporates its optimistic message and theme park origin story while still maintaining narrative momentum, "Tomorrowland" is a rare breed – a blockbuster with actually something to say. A premise this catchy paired with a marquee name like George Clooney should help this summer spectacle recoup its reported $190 million budget without much strain.
Crosscutting between different timeframes, "Tomorrowland" begins in present day with cynical but brilliant inventor Frank Walker (George Clooney) and his twentysomething associate, Casey Newton (Britt Robertson), arguing over how to relate the story of Tomorrowland to the audience.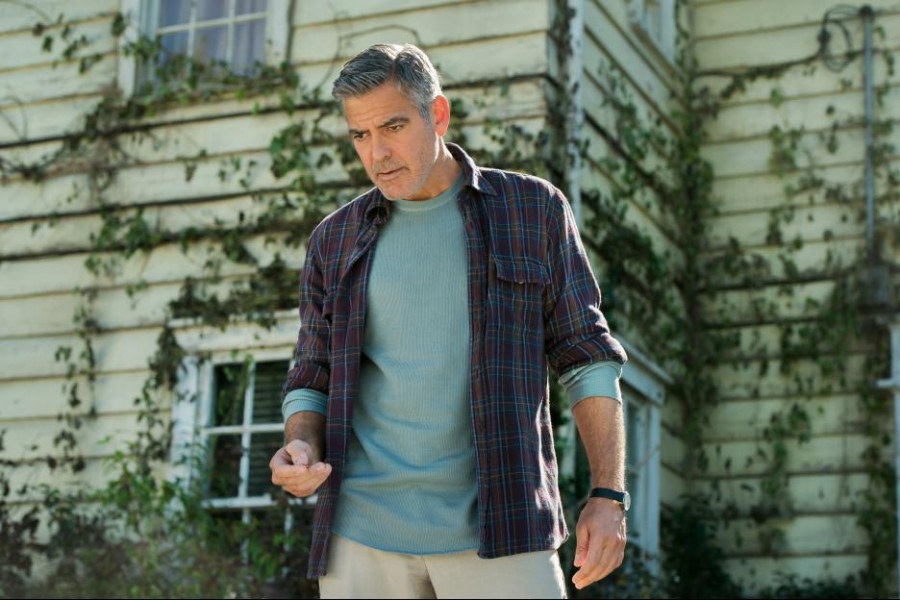 Frank's version of events begins in 1964 at the New York World's Fair, back when he was an enterprising lad trying to get his jet pack prototype accepted into the expo. After being roundly rejected by the head judge David Nix (Hugh Laurie), Frank meets Athena (Raffey Cassidy), a mysterious girl who offers him a look into the future in the form of a pin. Whoever wears one of these pins is transported to Tomorrowland, a place of unimaginable splendor characterized by robots, gravity defying monorails, insane architecture and some pretty slick outfits to boot.
After a quick glimpse of Tomorrowland, Casey snatches away narrative duties, shifting the story to near-present day Cape Canaveral, Florida, where she's a science-loving millennial consumed by the issues of our times (war, global warming, overpopulation, etc.). The daughter of a recently laid off engineer at the nearby NASA space station, one night, Casey happens upon this magical utopia when she comes in possession of a Tomorrowland pin. Unfortunately, her visit is short-lived, as the pin quickly runs out of power, leaving her desperate to return.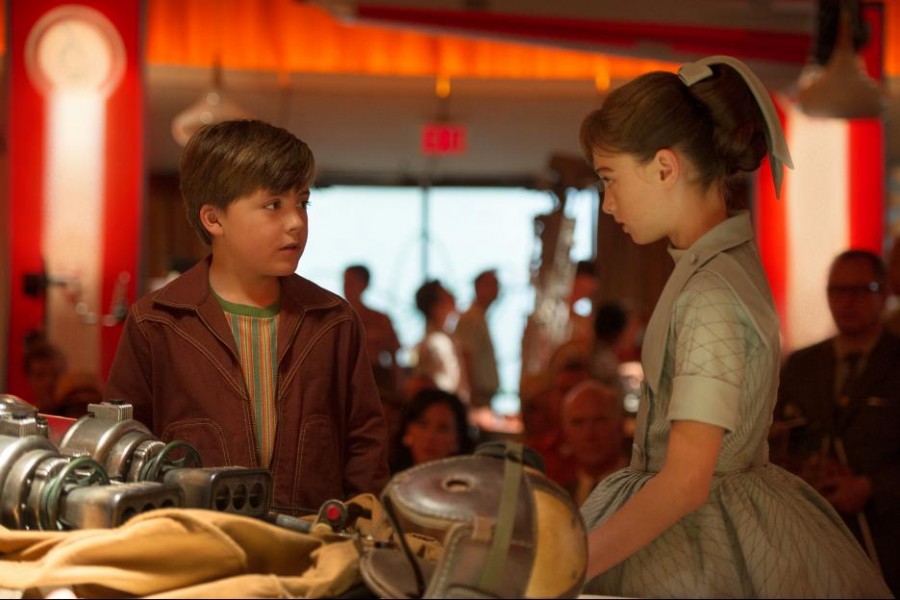 While hunting for a replacement pin at a comic book store, Casey runs afoul of a couple extraterrestrial nerds (Keegan-Michael Key and Kathryn Hahn), causing Athena to swoop in and save the day. After warning Casey of Earth's impending doom, Athena takes her to the only person capable of escorting her to Tomorrowland, grumpy old Frank Walker himself. A hermit living in a booby-trapped house that would make Kevin McCallister drool, Frank is initially resistant to the task but eventually gives in. Together, along with the help of a spaceship launcher hidden within the Eiffel Tower, the pair set off to Tomorrowland in search of an answer to saving the planet before doomsday arrives.
Although on paper "Tomorrowland" may sound a touch convoluted, if you push aside all of the otherworldly intricacies, at its center is an easily digestible story about an unlikely duo teaming up to save the world from environmental ruin. It's no secret that most big-budget films expend so much energy on the technical side of the filmmaking process that storyline can become secondary, but here, Bird and Lindelof have crafted a thought-provoking screenplay with mostly well-defined characters pursuing clear goals.
Rather than relying on green screen, Bird and his indispensable cinematographer Claudio Miranda ("Life of Pi") opted to shoot "in camera" as much as possible, resulting in a much more organic feel despite the futuristic setting. Filmed partially at the Santiago Calatrava-designed City of Arts and Sciences in Valencia, Spain, the production and set designs go a long way in bringing this imagined world to life.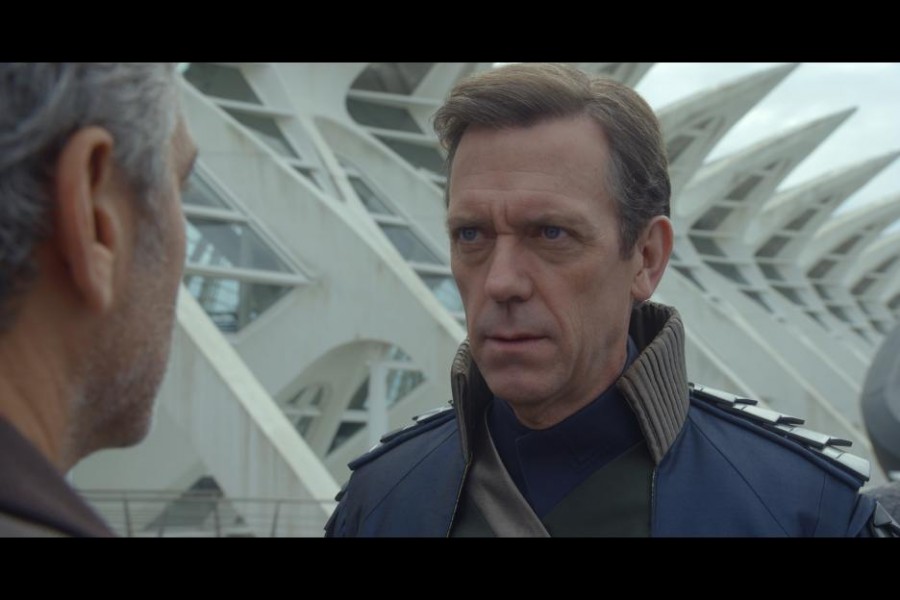 As the wunderkind inventor kicked out of Tomorrowland, George Clooney brings both charm and a cynical sense of humor to the role of Frank Walker. It's neither his best role nor is it particularly substantial – aside from the narrative gimmick that bookends the film, he doesn't show up until roughly the midpoint – but his character is crucial to the storyline and he adds some A-list class to the proceedings. The same can be said for Hugh Laurie as the antagonist David Nix: you've seen this role before but he still excels as an evil mastermind bent on world destruction.
The revelatory performances of "Tomorrowland" belong to Britt Robertson ("The Longest Ride") as the scientific-minded Casey Newton, whose altruistic intentions drive the storyline, and Raffey Cassidy ("Snow White and the Hunstman") as Athena, the butt kicking cutie who serves as guide to the newcomers of Tomorrowland.
An all-around quality summer flick that will appeal to children and parents alike, Disney has yet another winner on its hands with "Tomorrowland."
By Lucas Mirabella
Rated PG for sequences of sci-fi action violence and peril, thematic elements, and language.  
Running Time: 130 minutes
http://movies.disney.com/tomorrowland/