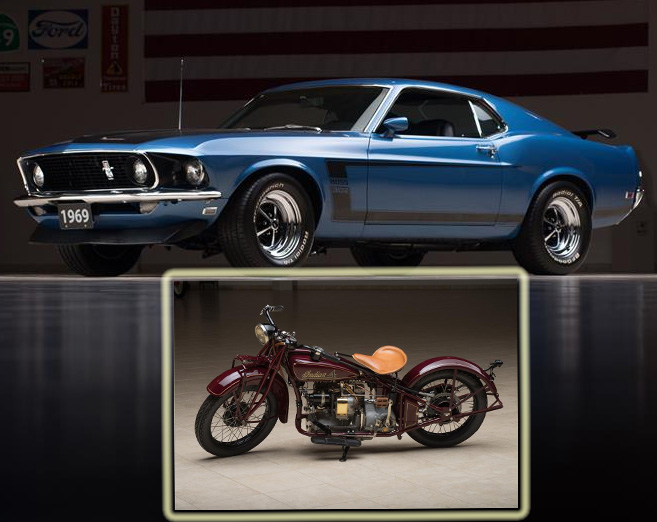 Barrett-Jackson, The World's Greatest Collector Car AuctionsTM, will auction more than 100 vehicles from the world-renowned Ron Pratte Collection on Tuesday, Jan. 13, 2015, beginning at 9 a.m. MST at WestWorld in Scottsdale, Ariz. Selling at predominantly No Reserve, The Ron Pratte Collection includes 140 collector cars, trucks and motorcycles, and over 1,400 pieces of automobilia.
"The Ron Pratte Collection is possibly the largest and most diverse to cross any collector car auction block over the past decade," said Craig Jackson, chairman and CEO of Barrett-Jackson. "The majority of Ron's collection was purchased at Barrett-Jackson auctions and it's only fitting that these fine collectibles come back to our Scottsdale auction to be passed along to their next caretaker."
The Ron Pratte Collection sale will kick off with his incredible compilation of automobilia on Saturday, Jan.10, at 9 a.m. MST and continue through its culmination on Tuesday, Jan. 13 at 1 p.m. The Pratte vehicles with lot numbers between 2000 and 2109 will cross the block on Tuesday beginning at 4 p.m. The remaining Pratte vehicles, with lot numbers starting at 2500 and above, will be crossing the block on Saturday, Jan. 17.
The Collection being auctioned on Tuesday, Jan. 13, includes an impressive mixture of vehicles, including a '69 Chevrolet Yenko Chevelle 2 door hardtop (Lot #2016), one of only 22 still in existence and the only one known to exist with a column shift; a '29 Indian 401 motorcycle (Lot #2058), which was restored to as-new condition and is ready to be ridden; and a '69 Ford Mustang Boss 302 Fastback (Lot #2049), one of the rarest Mustangs available with its original engine, transmission and rear end.
Because of the size and breadth of the Ron Pratte Collection, we wanted to give bidders a single day to really focus on the amazing vehicles that will cross the block," said Steve Davis, president of Barrett-Jackson. "Tuesday will be a big day for many collectors who have had their eye on some of these fantastic cars. Of course, we're also looking forward to the excitement when some of the crown jewels of the Ron Pratte Collection, like the Shelby Cobra Super Snake, cross the block on Saturday."
Beginning December 11, collectors can follow Barrett-Jackson's "30 Days of Pratte," an exclusive look inside the legendary Ron Pratte Collection featuring one Pratte-owned vehicle a day leading up to the first day of the Barrett-Jackson Scottsdale Auction. For a complete listing of The Ron Pratte Collection, visit www.Barrett-Jackson.com.