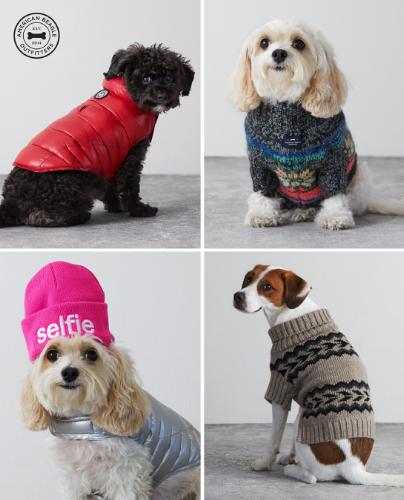 This week, American Eagle Outfitters, Inc. launches its first-ever clothing line for dogs and their owners, American Beagle Outfitters. Originally implemented as an April Fool's Day joke earlier this year in the philanthropic spirit of raising money and awareness for the ASPCA® (The American Society for the Prevention of Cruelty to Animals®), but due to an overwhelming public response and demand, American Eagle Outfitters has brought the limited-edition American Beagle Outfitters™ collection to life for Holiday 2014. The new line, available this week features an assortment of coordinating looks for the AEO guy, girl and now their dog, including iconic knits and outerwear.
"We had an enormous reaction to our April Fool's Day joke, and our customers were very clear about their desire for this product to become a reality," said Michael Leedy, Chief Marketing Officer of American Eagle Outfitters, Inc. "Following the journey of this idea has been fun for our team and we are now excited to introduce real American Beagle Outfitters products to our customer."
Designed to perfectly match the new AEO Holiday 2014 collection (for people), the canine collection features color-coordinated "Get Down" puffer and 'pupper' jackets and vests, matching Fair Isle knits and graphic beanies with slogans such as "woof" and "selfie," creating head-to-tail outfits that complement the style and personality of every pup.
"Just in time for the holidays, you'll be able to dress just like your best friend – man's best friend that is," said American Eagle Outfitters Style Director Preston Konrad. "This fun collection reflects the iconic elements of the American Eagle Outfitters brand reimagined for our favorite furry friends."
The limited-edition American Beagle Outfitters collection will be available in select American Eagle Outfitters stores and online at www.ae.com and ranges in price from $12.95 to $39.95.