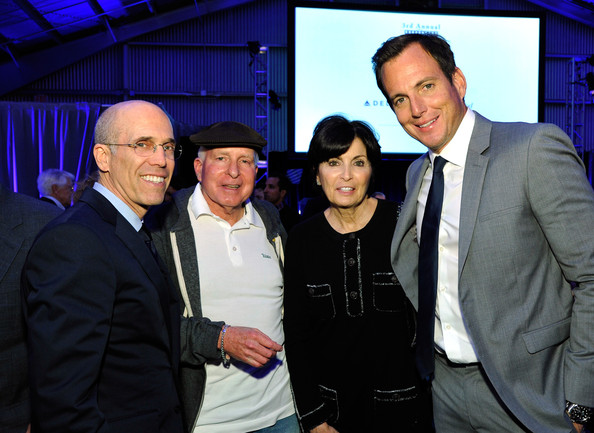 Photo Courtesy of ZIMBIO
DreamWorks Animation CEO Jeffrey Katzenberg, guest, Marilyn Katzenberg and actor Will Arnett
The entertainment industry turned out in force on Sunday evening in support of Motion Picture & Television Fund's (MPTF) third annual "Reel Stories, Real Lives" event, a unique evening of powerful readings which told the stories of industry members and their families who have benefitted from MPTF's services in recent years. The event, held at Milk Studios, was hosted by Will Arnett and featured video remarks from Mark Wahlberg and readings by renowned Hollywood actors including Casey Affleck, Joseph Gordon-Levitt, Anne Hathaway, Andy Samberg, and Taylor Schilling,
Each story was written by some of Hollywood's leading feature and television writers including Scott Cooper, M.A. Fortin & Joshua Miller, Michael Green, Karey Kirkpatrick & Steve Hickner & Billy Ray, and John Krasinski.  This year's show also included a special tribute to volunteering at MPTF by the very creative Funny or Die production team starring Beth Grant and Frances Fisher.
MPTF President and CEO Bob Beitcher said, "My love affair with MPTF began 12 years ago at an event just like tonight's 'Reel Stories' hosted by Kevin Spacey. Witnessing Hollywood's finest tell the amazing stories of how MPTF takes care of industry members in their time of need made me proud to be part of the entertainment community, led me to step up my financial contributions to MPTF, and screamed to me 'get involved.' And thankfully I did!"
The evening drew approximately 450 industry leaders, and celebrity guests including Casey Affleck, Will Arnett, Frances Fischer, Joseph Gordon-Levitt, Beth Grant, Anne Hathaway, Jeffrey Katzenberg, Brie Larson, Samantha Mathis, Dawn Olivieri, Sasha Pieterse, Andy Samberg, Taylor Schilling and more.
The event, which was produced by Guymon Casady, Bill Gerber, Kevin McCormick, Karen Rosenfelt, Greg Sills, Courtenay Valenti,and Warren Zavala also featured a special exhibit, The Music Within: Celebrating the Wonderful World of Album Art Cover Design, including worksby John Cage, Jo Ann Callis, Bruce Davidson, Henry Kiltz, William Eggleston, Raymond Pettibon, Norman Seeff, Alex Steinweiss, Andy Warhol, Hipgnosis, and more.
"There is no better way to introduce the next generation of Hollywood to the importance of MPTF to this industry than the creative talent brought together to tell the stories of the people helped by this charity," said Jeffrey Katzenberg, Chairman of the MPTF Foundation.  "My thanks to Will Arnett for hosting and to the talented actors and writers who are giving so generously of their talent to bring to life the mission of caring for our own in these compassionate real-life stories."
CEO of MPTF Foundation Ken Scherer said, "MPTF Foundation is truly fortunate to have the force of nature that has become what we affectionately call Team Valenti – my thanks to Guymon Casady, Bill Gerber, Karen Rosenfelt, Kevin McCormick, Greg Sills, Courtenay Valenti, and Warren Zavala – for channeling their individual passion into creating this event that has built awareness and motivated engagement with the next generation of Hollywood. And out of this event has emerged a new Next Gen group under the leadership of Natalie Bruss and Zachary Browning," Scherer concluded.
The evening was generously sponsored by UCLA Health, Delta Air Lines, and The Hollywood Reporter.