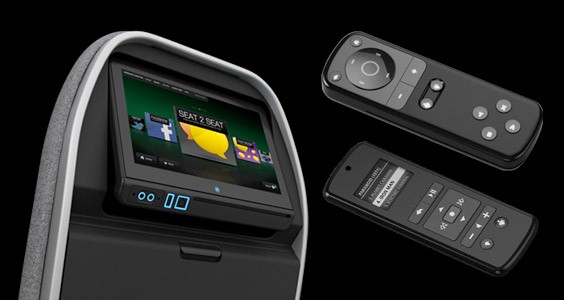 Panasonic Avionics Corporation has unveiled a conceptual 14-inch monitor for Economy Class seats integrated into a Quantum Seat designed by Encore Aerospace.  
This integrated seat demonstration, which is on display in Hamburg, Germany at Aircraft Interiors Expo in in Panasonic's booth #6C20, was developed in six months through close collaboration between Panasonic and Encore Aerospace.
From the outset, Panasonic's vision was to deliver a solution that featured the largest monitor ever to debut in Economy Class.The Quantum Seat was designed to decrease weight for less fuel burn and to maximize living space for passengers.  It has a thin design that includes a carbon fibre seatback and pan, a retractable arm, and a hidden raceway that simplifies the installation and maintenance of wire harnesses. The monitor shroud is designed to integrate a wide range of Panasonic monitors in sizes ranging from 9 to 14 inches.
More room and bigger TV's.. where do we sign up? http://www.panasonic.aero.