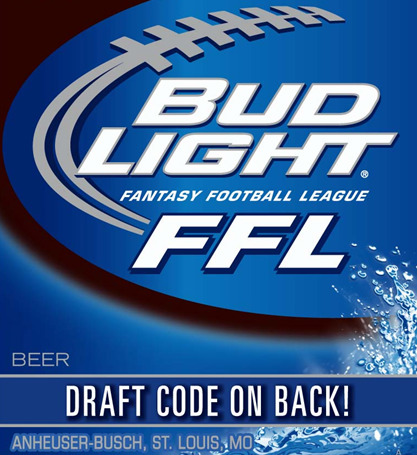 It's that time of year again. Soon the leaves will be falling off the trees, college commences and football fans draft their fantasy league teams! Now you can draft with one of your favorite beers. Bud Light, the official beer sponsor of the National Football League, is bringing fans a new take on an old classic with the Bud Light Fantasy Football League (FFL), a season-long game that allows fans to "draft" their fantasy roster from nearly a billion specially marked Bud Light bottles.
Adult fans, 21 years of age and older, can now register for the Bud Light Fantasy Football League at www.BudLight.com/FFL, where they will select their favorite team and be placed in that team's "league." Each individual FFL participant will be challenged to build weekly teams of five positions – quarterback, running back, wide receiver/tight end, kicker and defense – using codes obtained from specially-marked 12-ounce bottles of Bud Light throughout the season. Each code represents a NFL team's position, and the more bottle codes players collect, the more roster options they will have to choose from. Players will be required to replenish their starting teams weekly through their rosters or by entering new codes.
The Bud Light Fantasy Football League consists of 17 weeks of activity, corresponding with the 17 weeks of the NFL regular season. Rather than the head-to-head format seen in traditional fantasy leagues, FFL users will compete against an entire NFL team-specific division. Fans can play periodically – competing for more than 13,000 weekly prizes – or all season long. One Bud Light Fantasy Football League grand-prize winner will receive a trip for two to Super Bowl XLVII in New Orleans. Additional divisional prizes include 32 trips for two to the 2013 Pro Bowl in Honolulu, 800 sets of tickets to NFL regular season games and Bud Light prize packs.
Fans can visit www.BudLight.com/FFL to register for the Bud Light Fantasy Football League and view official rules and details.
*NO PURCHASE NECESSARY. Open to United States residents who are 21 years of age or older at the time of entry. Promotion begins at 4:00 p.m. ET on 8/1/12 and ends at 8:16 p.m. ET on 12/30/12.
**CA RESIDENTS: Win discounts on team gear/tickets and more.