Matt Spicer's Ingrid Goes West starring Aubrey Plaza, Elizabeth Olsen, O'Shea Jackson Jr., Wyatt Russell, Billy Magnussen and Pom Klementieff will close out the 2017 LA Film Festival.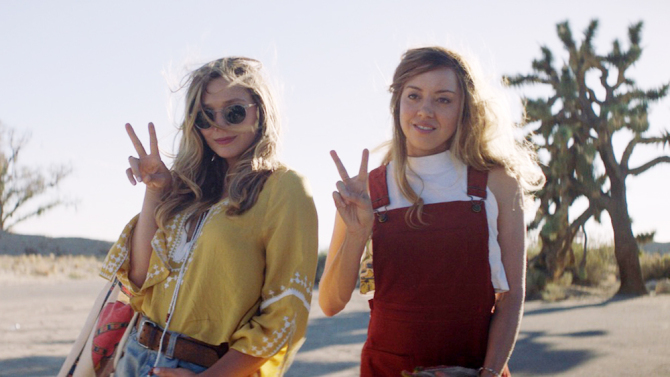 On June 17 there will be a World Premiere Gala Screening of Ric Roman Waugh's Shot Caller starring Nikolaj Coster-Waldau, Omari Hardwick, Lake Bell, Jon Bernthal, Emory Cohen, Jeffrey Donovan and Benjamin Bratt.
Shot Caller is being distributed by Saban Films. Also announced today, are the films in the Premiere and Buzz categories, as well as the Film Independent Member Screening of Jeff Baena's The Little Hours starring Alison Brie, Dave Franco, Kate Micucci, Aubrey Plaza, John C. Reilly and Molly Shannon, from distributor Gunpowder & Sky. USA Network will also screen the West Coast Premiere of series The Sinner starring Jessica Biel, Bill Pullman and Christopher Abbott at the LA Film Festival.
"Being able to bookend the Festival with strong female leads was a deliberate choice," said Festival Director Jennifer Cochis. "These women aren't a love interest or a small plot point, they are driving the narratives of both our Opening and Closing Night films. Ingrid Goes West takes place all over Los Angeles, it is such a dark funny gem of a film and Aubrey Plaza shines."
The LA Film Festival takes place June 14 – 22, 2017 headquartered at ArcLight Cinemas Culver City, with additional screenings at ArcLight Hollywood, ArcLight Santa Monica and more. Festival passes are on sale now at lafilmfestival.com.
Closing Night Film
Thursday, June 22, ArcLight Culver City
• Ingrid Goes West, dir. Matt Spicer, USA, Los Angeles Premiere
Ingrid Thorburn is an unhinged social media stalker who moves to LA to befriend her latest obsession, the boho chic social media influencer, Taylor Sloane.
NEON will release Ingrid Goes West on August 11.
Gala Screening of Shot Caller
Saturday, June 17, ArcLight Culver City
• Shot Caller, dir. Ric Roman Waugh, USA, World Premiere
A newly released prison gangster is forced by the leaders of his gang to orchestrate a major crime on the streets of Southern California.
Buzz (8)
Non-competitive showcase of curated favorites from other film festivals.
• The Big Sick, dir. Michael Showalter, USA, LA Premiere
• Bill Nye: Science Guy, dir. David Alvarado, Jason Sussberg, USA, LA Premiere
• Lady Macbeth, dir. William Oldroyd, UK, LA Premiere
• Maudie, dir. Aisling Walsh, Ireland/Canada, LA Premiere
• My Friend Dahmer, dir. Marc Meyers, USA, LA Premiere
• Patti Cake$, dir. Geremy Jasper, USA, LA Premiere
• Keep the Change, dir. Rachel Israel, USA, LA Premiere
• Whitney: Can I Be Me, dir. Nick Broomfield, Rudi Dolezal, USA, LA Premiere
Premieres (10)
World premieres of fiction and documentary films featuring noteworthy talent.
• The Bachelors, dir. Kurt Voelker, USA, World Premiere
• CounterPunch, dir. Jay Bulger, USA, World Premiere
• A Crooked Somebody, dir. Trevor White, USA, World Premiere
• The Female Brain, dir. Whitney Cummings, USA, World Premiere
• Humor Me, dir. Sam Hoffman, USA, World Premiere
• The Keeping Hours, dir. Karen Moncrieff, USA, World Premiere
• Living on Soul, dir. Cory Bailey, Jeff Broadway, USA, World Premiere
• The Song of Sway Lake, dir. Ari Gold, USA, World Premiere
• Submission, dir. Richard Levine, USA, World Premiere
• Sun Dogs, dir. Jennifer Morrison, USA, World Premiere
Film Independent Members Screening
• The Little Hours, dir. Jeff Baena, USA, LA Premiere
A young servant fleeing from his master takes refuge at a dysfunctional convent in medieval Tuscany.
Additional Festival Event
Friday, June 16, ArcLight Santa Monica
• The Sinner, West Coast Premiere
The Sinner follows a young mother who commits a startling act of violence, which launches an inverted and utterly surprising crime thriller whose driving force is not the "who" or the "what" — but the "why."
The show premieres August 2 on USA Network.