Trail runners looking for something to do this weekend…
Celebrate the 10th anniversary of The Griffith Park Trail Marathon Relay on June 4th!
Founded by Joe Matis in 2013, he wanted to create an event that would showcase Griffith Park's beauty while challenging runners with a unique trail running experience.
In 2016, Joe transferred the event to the leadership of Choy Bacor and Leland Mah, who have produced the event since then. The event has evolved significantly over the years, with the addition of an 8K race in 2017.
The Griffith Park Trail Marathon Relay was loosely based on the Jimmy Stewart Relay Marathon, a road marathon that was held annually within Griffith Park in the early 2000s. Joe, the founder of the event, had fond memories of the Jimmy Stewart Relay and decided to resurrect it as a trail run.
Since its inception, the Griffith Park Trail Marathon Relay has become the largest marathon relay in Los Angeles, drawing hundreds of teams from across Southern California. It is a testament to the enduring appeal of this unique event and the love that people have for Griffith Park and trail running.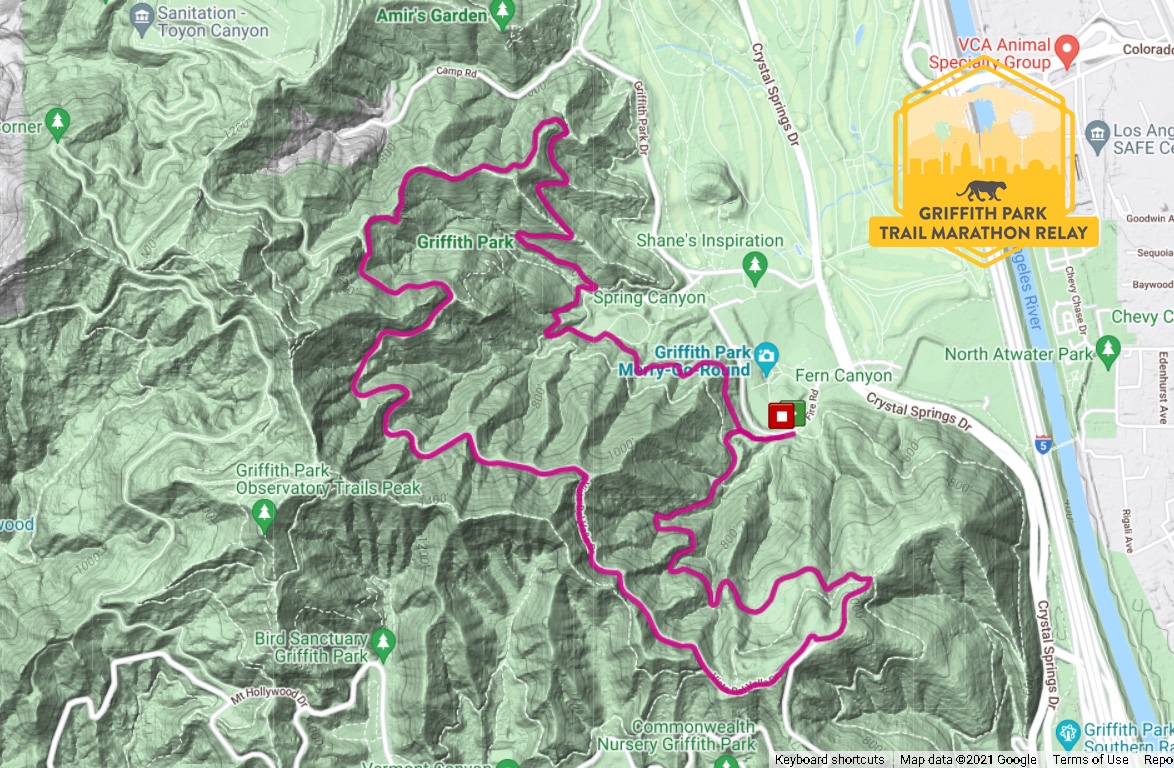 The course is an intermediate, yet challenging course. The course is composed of Upper and Lower Old Zoo Trails and Beacon Trail. The terrain is a combination of dirt fire roads and some single track. The start and finish is on the fire road by the entrance to the Merry Go Round parking lot.
There will be two well supported aid stations on the course, located at mile 1.75 and mile 3.75. Each aid station will be staffed, and have water, snacks, electrolyte drink, and an EMT.
Each relay runner will be running approximately 5.25 miles with a combined distance of 26.25 miles for all 5 runners.
The 8K course is a single loop.
For the 10th anniversary the race is giving away limited edition stickers, and a collectable pin.
Sign up for Sunday's race here: https://griffithparkmarathonrelay.com/