After almost two years of live events on hold due to the pandemic…. we were missing our annual Oktoberfest festivities in the heart of Big Bear, California. But, great news: they're back and better than ever.
With live bands indoors and outside, plentiful prizes for fun games and competitions and, of course… fantastic options of flowing beer, Big Bear is popping this Fall season.
Celebrating its 50th anniversary (from 2020), Big Bear Oktoberfest always delivers an authentic Bavarian-style celebration for nine consecutive weekends. Now through November 7th, guests can enjoy:
Friday nights in October and Sunday Family Fun Package.
"Last year, we drew up some novel ideas that will continue on for 2021," said Big Bear Lake Oktoberfest Director Monica Marini. "Preferred seating proved to be so popular, we had to bring it back. We also got feedback from our guests that were glad to have an option to attend Friday nights in October. Plus more families attended on Sundays because of our Sunday Family Fun Package."
Preferred seating provides guests guaranteed seats for either indoors or outdoors. It includes cocktail service, which means guests can enjoy more entertainment from their seat without the hassle of getting up for a refill. It's a great touch and a good idea if you're visiting with family and friends. Reserve a table!
The Sunday Family Fun Package includes reservations for two adults, two kids (ages 12 and under) and two kids' meals at a discounted rate.
The main attraction of course are the traditions and customs that have shaped Big Bear Lake Oktoberfest for the past 50 years. Big Bear Lake Oktoberfest represents Southern California's most authentic Oktoberfest, which takes pride in being the closest thing to the original celebration in Munich, Germany.
Did you know that Big Bear Oktoberfest is the highest altitude Oktoberfest in the U.S. at 6,750'?!
Big Bear Lake Oktoberfest takes pride in serving the very same beer poured at Munich's Oktoberfest!
There are two bars that service the inside of the Convention Center and multiple bier gartens (beer gardens) on the outside, including the Craft Haus, which provides a variety of micro brews and craft beer, ideal for beer connoisseurs.
The bratwurst and knockwurst is from a German butcher in Los Angeles, and fresh apple strudel and pretzels are delivered weekly from a German bakery in Newport Beach.
Fun competitions and contests at Oktoberfest include log sawing and stein holding. A fast-paced, cornhole-toss game will be introduced this year that challenges two-player teams to try to score as many points as possible in a timed two- minute battle. Children's fun and games include kiddy mug holding matches, pretzel toss and an enhanced kids' play area with giant inflatables.
Dance troupes perform customary dances, and festivalgoers get into the action by flapping their arms and clucking away to the Chicken Dance.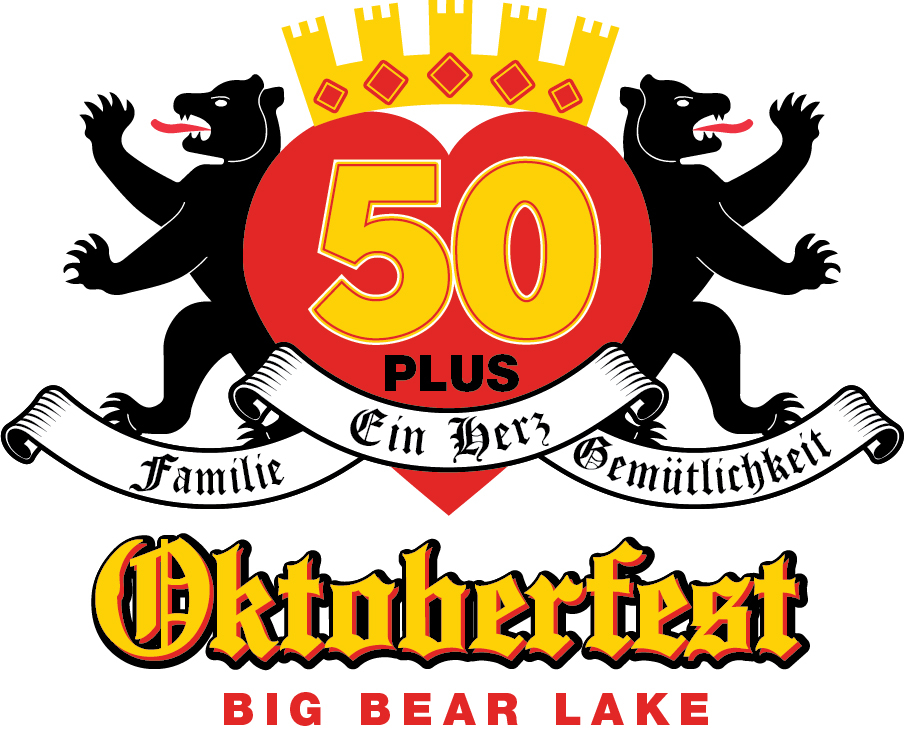 It can get a bit chilly at night, especially as we head into October, so bring a jacket and scarf! Shop the vendors outside and dance the night away!
Get your tickets now for every weekend until Sunday, November 7, 2021.
Where: Big Bear Lake Convention Center, located at 42900 Big Bear Blvd.
When: Event times are Saturdays 1 p.m. to 11 p.m.; Sundays 12 noon to 6 p.m. and Fridays (October only) 4 p.m. to 11 p.m.
This year's event has limited capacity, and some dates are anticipated to sell out.
Guests are strongly encouraged to pre-purchase tickets.
Saturdays in October have set arrival entry time blocks to ensure everyone with a pre-purchased tickets get a speedy entrance into the event. Tickets are on a first come, first served basis.
For ticket pricing details or to purchase tickets online, including general admission, preferred seating, Sunday Family Fun Package and Über Bürgermeiste Party Pack, visit BigBearEvents.com, or Facebook, or call 909-585-3000.
Watch LATF's Oktoberfest report from the 48th Oktoberfest!