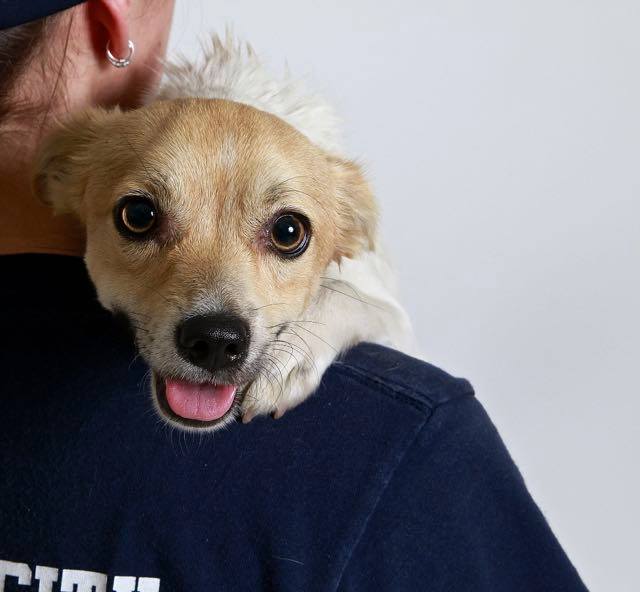 While many people celebrate the Fourth of July with big gatherings and firework festivities, many furry family members prefer a quiet day at home. Fireworks are no fun for pets! The loud noises can frighten dogs and cats, causing them to escape their house or yard in an attempt to look for safety. Make Independence Day fun for your pets and protect them from getting lost. Here are some tips to help keep your four-legged loved ones safe:
Make sure your pet has up-to-date identification.
If for any reason your pet escapes and becomes lost, a collar or harness with a current license and/or ID tag on it and a microchip that's registered with your contact information, will help reunite you with your companion animal right away! For information on getting or renewing your dog's license, visit anionlinelicense.lacity.org.
If your pet isn't microchipped, you can contact any of our LA Animal Services Centers and schedule an appointment to have your companion animal chipped. The cost for the general public is $15.00 per animal. For information or to schedule an appointment, call (888) 452-7381. Most veterinary clinics also offer microchipping!
Keep your pets indoors.
The 4th of July and the days following are the busiest at LA Animal Services Centers. Many pets escape their homes because they are afraid of loud sounds from fireworks. The best way to keep your pets safe is to make sure they stay indoors and in an enclosed room if possible. If you do allow your pet outside, be sure that your gates or fence are secure or that your pet stays on a leash.
Create a calming environment.
If you're having guests over or a party, try creating a safe place in your home where your pet can have some quiet space away from your company such as a room that's off-limits or a familiar crate with some of their favorite toys or a comforting blanket. Play soothing music and keep the room as quiet as possible by closing doors, windows and blinds. While celebrating, it is easy to forget that loud noises can scare your four-legged friend.
Stay away from fireworks.
Even if your pet does not seem obviously upset by fireworks, they can still cause harm to pets. Fireworks are illegal in the City of Los Angeles. You can prevent potential burns, injuries, or possible ingestion by keeping all pets out of the vicinity of fireworks and asking friends and neighbors to avoid using them.
Start looking for your lost pet right away.
Go to the Animal Services Center nearest to where you last saw your animal. Give them a photo or specific information about what your pet looks like, if they are microchipped and if they are wearing a license or tag. You may also search the LA Animal Services lost pet database at www.laanimalservices.com/about-animals/lost-pet/.
Adopt or foster and help save more pets.
Every year around the Fourth of July, LA Animal Services Centers fill beyond capacity with terrified, lost pets. This means that available space can be the difference between life and death for our animal guests who have been with us past the required hold period. You can make that life-saving difference by fostering a pet for four days or more or adopting.
The 4 Days For Life adoption event will take place this year on June 29th through 30th, and July 2nd through 3rd (centers are closed on Mondays). All six locations will be offering 50% discounts off of adoption fees for all dogs and cats. For more information please visit https://4daysforlife.com/
Our LA Animal Services Centers are open Tuesday through Saturday from 8 am to 5 pm and Sunday 11 am to 5 pm. We are closed on Mondays and the Fourth of July. To find the center nearest you, visit www.laanimalservices.com/shelter-locator or call (888) 452-7381.