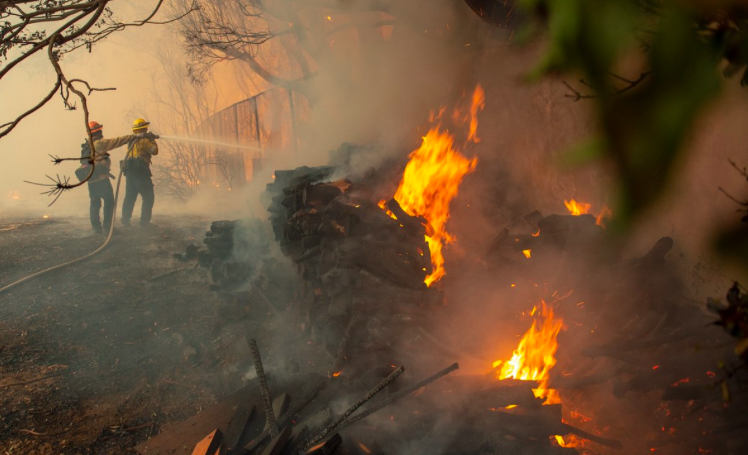 L.A. County Fire has issued a mandatory evacuation alert for residents of Topanga, Malibu, Calabasas, Hidden Hills and unincorporated areas of the county directly impacted by the fire. Currently 91,572 acres have been affected, with 20% containment.
L.A. County Fire has issued a voluntary evacuation alert for residents of other areas in close proximity for affected areas.
If you were affected by the Woolsey or Hill fires, the Thousand Oaks mass shooting, or both, you can call the Disaster Distress Helpline at 1-800-985-5990 or text "TalkWithUs" to 66746 for emotional support and resources.
REPOPULATION BEGINS IN SOME AREAS AS DESIGNATED BELOW. OTHER EVACUATION ORDERS FOR AREAS NOT LISTED REMAIN IN EFFECT.
As of 11/12/18 at 11:30 am
IMMEDIATE EVACUATION ORDER: Areas of Box Canyon and Lake Manor, Unincorporated Los Angeles. South of the 118 Freeway. Fast moving brush fire.
Repopulation Begins for Agoura Hills and Westlake Village Residents Affected By Woolsey Fire
PLEASE: DO NOT RE-ENTER EVACUATED AREAS. MANDATORY EVACUATION ORDERS WILL REMAIN IN PLACE UNTIL IT IS SAFE FOR RESIDENTS TO RETURN.
Entire city of Malibu, and areas south of 101 Freeway from Ventura County line to Las Virgenes/Malibu Cyn, southward to the ocean
Entire community of Hidden Hills – residents urged to take Valley Circle Blvd towards Chatsworth
Calabasas: All residences off Parkway Calabasas, including The Oaks, Vista Point, Westridge, Calabasas Hills, Calabasas Park Estates
Monte Nido, Topanga communities
Liberty Canyon west to Decker Canyon and south all the way to PCH
Las Virgenes/Malibu Canyon on the east to Decker Canyon on the west all the way to Malibu at PCH
Oak Park – Entire Community
Bell Canyon – Entire Community
South of Bard Lake, east of Highway 23
South of Highway 101. East of Reino Rd., north of Potrero Rd., east to the L.A./Ventura County line
West Hills, west of Valley Circle Blvd with border to the north at Roscoe Blvd and to the south at Vanowen Street
Thousand Oaks – T.O. Blvd. – North to Sunset Hills, from Oak Park west to HWY 23
West of HWY 23 – South of E. Olson Road, North of Pederson Rd.
South of Bard Lake, East of HWY 23
South of HWY 101, East of Reino Rd., North of Potrero Rd., East to the L.A./Ventura County Line