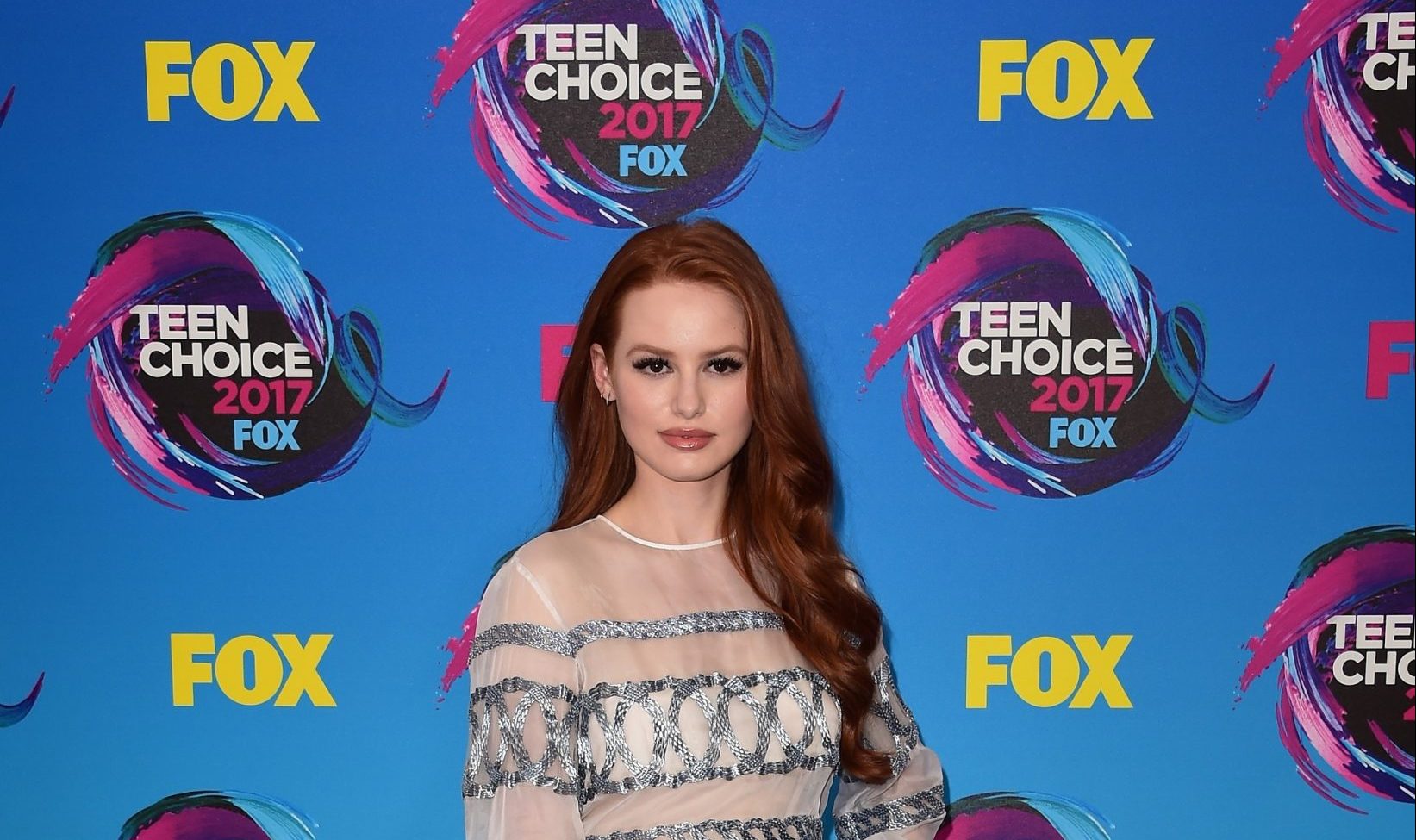 Riverdale star Madelaine Petsch
The following were honored today at TEEN CHOICE 2018TM, which aired live on FOX from the Forum in Los Angeles. This year, teens logged on to Twitter and FOX.com and cast more than 150 million votes in support of their favorite teen icons in film, television, music, sports, fashion, comedy and the web.
The star-studded event featured performances by Bebe Rexha, Meghan Trainor, Foster the People, Khalid, Lauv and Season One winner of THE FOUR: BATTLE FOR STARDOM, Evvie McKinney.
TEEN CHOICE 2018 complete list of winners below:
MOVIES
Choice Action Movie (#ChoiceActionMovie)
"Avengers: Infinity War"
Choice Action Movie Actor (#ChoiceActionMovieActor)
Robert Downey Jr. – "Avengers: Infinity War"
Choice Action Movie Actress (#ChoiceActionMovieActress)
Scarlett Johansson – "Avengers: Infinity War"
Choice Sci-Fi Movie (#ChoiceSciFiMovie)
"Black Panther"
Choice Sci-Fi Movie Actor (#ChoiceSciFiMovieActor)
Chris Hemsworth – "Thor: Ragnarok"
Choice Sci-Fi Movie Actress (#ChoiceSciFiMovieActress)
Letitia Wright – "Black Panther"
Choice Fantasy Movie (#ChoiceFantasyMovie)
"Coco"
Choice Fantasy Movie Actor (#ChoiceFantasyMovieActor)
Anthony Gonzalez – "Coco"
Choice Fantasy Movie Actress (#ChoiceFantasyMovieActress)
Carrie Fisher – "Star Wars: The Last Jedi"
Choice Drama Movie (#ChoiceDramaMovie)
"The Greatest Showman"
Choice Drama Movie Actor (#ChoiceDramaMovieActor)
Zac Efron – "The Greatest Showman"
Choice Drama Movie Actress (#ChoiceDramaMovieActress)
Zendaya – "The Greatest Showman"
Choice Comedy Movie (#ChoiceComedyMovie)
"Love, Simon"
Choice Comedy Movie Actor (#ChoiceComedyMovieActor)
Dwayne Johnson – "Jumanji: Welcome to the Jungle"
Choice Comedy Movie Actress (#ChoiceComedyMovieActress)
Anna Kendrick – "Pitch Perfect 3"
Choice Summer Movie (#ChoiceSummerMovie)
"Incredibles 2"
Choice Summer Movie Actor (#ChoiceSummerMovieActor)
Chris Pratt – "Jurassic World: Fallen Kingdom"
Choice Summer Movie Actress (#ChoiceSummerMovieActress)
Bryce Dallas Howard – "Jurassic World: Fallen Kingdom"
Choice Movie Villain (#ChoiceMovieVillain)
Michael B. Jordan – "Black Panther"
Choice Breakout Movie Star (#ChoiceBreakoutMovieStar)
Nick Robinson – "Love, Simon"
Choice MovieShip (#ChoiceMovieShip)
Zac Efron & Zendaya – "The Greatest Showman"
TELEVISION
Choice Drama TV Show (#ChoiceDramaTVShow)
"Riverdale"
Choice Drama TV Actor (#ChoiceDramaTVActor)
Cole Sprouse – "Riverdale"
Choice Drama TV Actress (#ChoiceDramaTVActress)
Lili Reinhart – "Riverdale"
Choice Sci-Fi/Fantasy TV Show (#ChoiceSciFiTVShow)
"Shadowhunters: The Mortal Instruments"
Choice Sci-Fi/Fantasy TV Actor (#ChoiceSciFiTVActor)
Matthew Daddario – "Shadowhunters: The Mortal Instruments"
Choice Sci-Fi/Fantasy TV Actress (#ChoiceSciFiTVActress)
Millie Bobby Brown – "Stranger Things"
Choice Action TV Show (#ChoiceActionTVShow)
"The Flash"
Choice Action TV Actor (#ChoiceActionTVActor)
Grant Gustin – "The Flash"
Choice Action TV Actress (#ChoiceActionTVActress)
Melissa Benoist – "Supergirl"
Choice Comedy TV Show (#ChoiceComedyTVShow)
"The Big Bang Theory"
Choice Comedy TV Actor (#ChoiceComedyTVActor)
Jaime Camil – "Jane the Virgin"
Choice Comedy TV Actress (#ChoiceComedyTVActress)
Gina Rodriguez – "Jane the Virgin"
Choice Animated TV Show (#ChoiceAnimatedTVShow)
"Miraculous: Tales of Ladybug & Cat Noir"
Choice Reality TV Show (#ChoiceRealityTVShow)
"Keeping Up with the Kardashians"
Choice Throwback TV Show (#ChoiceThrowbackTVShow)
"Friends"
Choice TV Personality (#ChoiceTVPersonality)
Chrissy Teigen – "Lip Sync Battle"
Choice Summer TV Show (#ChoiceSummerTVShow)
"So You Think You Can Dance"
Choice Summer TV Star (#ChoiceSummerTVStar)
Olivia Holt – "Marvel's Cloak & Dagger"
Choice TV Villain (#ChoiceTVVillain)
Mark Consuelos – "Riverdale"
Choice Breakout TV Show (#ChoiceBreakoutTVShow)
"On My Block"
Choice Breakout TV Star (#ChoiceBreakoutTVStar)
Vanessa Morgan – "Riverdale"
Choice TVShip (#ChoiceTVShip)
Cole Sprouse & Lili Reinhart – "Riverdale"
MUSIC
Choice Male Artist (#ChoiceMaleArtist)
Louis Tomlinson
Choice Female Artist (#ChoiceFemaleArtist)
Camila Cabello
Choice Music Group (#ChoiceMusicGroup)
5 Seconds of Summer
Choice Country Artist (#ChoiceCountryArtist)
Carrie Underwood
Choice Electronic/Dance Artist (#ChoiceElectronicDanceArtist)
The Chainsmokers
Choice Latin Artist (#ChoiceLatinArtist)
CNCO
Choice R&B/Hip-Hop Artist (#ChoiceRBHipHopArtist)
Cardi B
Choice Rock Artist (#ChoiceRockArtist)
Imagine Dragons
Choice Song: Female Artist (#ChoiceSongFemaleArtist)
Camila Cabello (feat. Young Thug) – "Havana"
Choice Song: Male Artist (#ChoiceSongMaleArtist)
Ed Sheeran – "Perfect"
Choice Song: Group (#ChoiceSongGroup)
5 Seconds of Summer – "Youngblood"
Choice Collaboration (#ChoiceCollaboration)
Zac Efron & Zendaya – "Rewrite the Stars" ("The Greatest Showman" soundtrack)
Choice Summer Song (#ChoiceSummerSong)
"Back To You" – Selena Gomez
Choice Summer Female Artist (#ChoiceSummerFemaleArtist)
Camila Cabello
Choice Summer Male Artist (#ChoiceSummerMaleArtist)
Shawn Mendes
Choice Summer Group (#ChoiceSummerGroup)
5 Seconds of Summer
Choice Summer Tour (#ChoiceSummerTour)
Harry Styles – Live on Tour
Choice Pop Song (#ChoicePopSong)
"In My Blood" – Shawn Mendes
Choice Country Song (#ChoiceCountrySong)
"Meant to Be" – Bebe Rexha (feat. Florida Georgia Line)
Choice Electronic/Dance Song (#ChoiceElectronicDanceSong)
"All Night" – Steve Aoki & Lauren Jauregui
Choice Latin Song (#ChoiceLatinSong)
"Familiar" – Liam Payne & J Balvin
Choice R&B/Hip-Hop Song (#ChoiceRBHipHopSong)
"Love Lies" – Khalid & Normani
Choice Rock/Alternative Song (#ChoiceRockSong)
"Whatever It Takes" – Imagine Dragons
Choice Breakout Artist (#ChoiceBreakoutArtist)
Khalid
Choice Next Big Thing (#ChoiceNextBigThing)
Jackson Wang
DIGITAL
Choice Female Web Star (#ChoiceFemaleWebStar)
Liza Koshy
Choice Male Web Star (#ChoiceMaleWebStar)
The Dolan Twins
Choice Comedy Web Star (#ChoiceComedyWebStar)
Liza Koshy
Choice Music Web Star (#ChoiceMusicWebStar)
Erika Costell
Choice Fashion/Beauty Web Star (#ChoiceBeautyWebStar)
James Charles
Choice Twit (#ChoiceTwit)
Anna Kendrick
Choice Instagrammer (#ChoiceInstagrammer)
Selena Gomez
Choice Snapchatter (#ChoiceSnapchatter)
Ariana Grande
Choice YouTuber (#ChoiceYouTuber)
Liza Koshy
Choice Muser (#ChoiceMuser)
Mackenzie Ziegler
OTHER
Choice Comedian (#ChoiceComedian)
The Dolan Twins
Choice Male Athlete (#ChoiceMaleAthlete)
LeBron James
Choice Female Athlete (#ChoiceFemaleAthlete)
Serena Williams
Choice Liplock (#ChoiceLipLock)
Cole Sprouse & Lili Reinhart – "Riverdale"
Choice Hissy Fit (#ChoiceHissyFit)
Madelaine Petsch – "Riverdale"
Choice Scene Stealer (#ChoiceSceneStealer)
Vanessa Morgan – "Riverdale"
Choice Style Icon (#ChoiceStyleIcon)
Harry Styles
Choice Female Hottie (#ChoiceFemaleHottie)
Lauren Jauregui
Choice Male Hottie (#ChoiceMaleHottie)
Cole Sprouse
Choice Videogame (#ChoiceVideoGame)
Fortnite
Choice Dancer (#ChoiceDancer)
Maddie Ziegler
Choice Model (#ChoiceModel)
Gigi Hadid
Choice International Artist (#ChoiceInternationalArtist)
BTS
Choice Fandom (#ChoiceFandom)
#BTSArmy