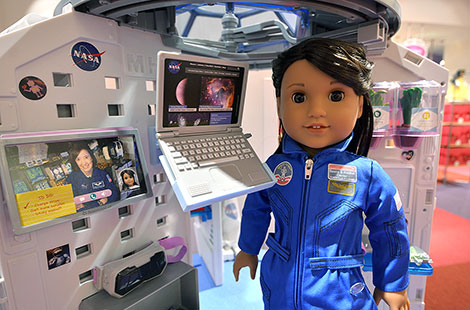 3…2…1…It's time to blast off with American Girl's 2018 Girl of the Year™, Luciana Vega™!
Luciana is the latest in American Girl's long line of inspiring characters that encourage girls to think about who they want to be and how they want to make their mark in the world—no matter the challenges they may face. In Luciana, girls will meet a creative, confident 11-year-old girl and aspiring astronaut who dreams of being the first person to go to Mars. And, while she has the skills and smarts to achieve her goals, she also learns that being a good leader and team player right here on Earth is the best first step.
To help ensure the accuracy of Luciana's story and product line, American Girl worked with the following four-member Advisory Board who were integral to Luciana's development: Dr. Ellen Stofan, former NASA Chief Scientist; Dr. Deborah Barnhart, CEO and Executive Director of the U.S. Space & Rocket Center; Dr. Megan McArthur Behnken, NASA Astronaut; and Maureen O'Brien, Manager of Strategic Alliances at NASA. In addition, a team of American Girl editors and product designers visited Space Camp and NASA's Johnson Space Center in Houston to gain insight into a day in the life of a Space Camp trainee—from putting on space suits and learning about the "right" way to eat in space to conducting a mission in micro-gravity.
Luciana's world comes to life via a beautiful 18-inch Luciana™ doll, featuring warm brown eyes, medium skin, and dark brown hair with a distinctive purple streak to show off her creative side.
Other STEM-inspired outfits, accessories, and products that reflect her Space Camp® experience include Luciana's Flight Suit and Space Suit, her Maker Station, and a Mars Habitat loaded with science and research essentials for hours of pretend play. And—for the first time—girls can further engage in Luciana's world by downloading the American Girl app and scanning her catalogue pages and products to unlock exclusive content, including augmented reality, trailers and videos, space simulations, quizzes and challenges, and much more.
Additionally, Luciana's story is chronicled in a chapter book series written by Erin Teagan and published by Scholastic.
To engage girls and boys with Luciana's message, American Girl—in partnerships with Scholastic, NASA, and Space Camp—has funded Blast Off to Discovery, an educational program to help third through fifth-grade students explore the wonder of space through Luciana-inspired content, including STEM-based lesson plans and classroom activities, videos, a game, and more.
The program will be available on www.scholastic.com starting January 31, 2018.
In addition, American Girl and Scholastic will host a Mission to Mars Sweepstakes where families can go on a series of weekly missions for a chance to win several prizes, including a grand prize trip to Space Camp valued at over $2,000.