The first leg of U2's North American The Joshua Tree Tour has wrapped with raving reviews from fans.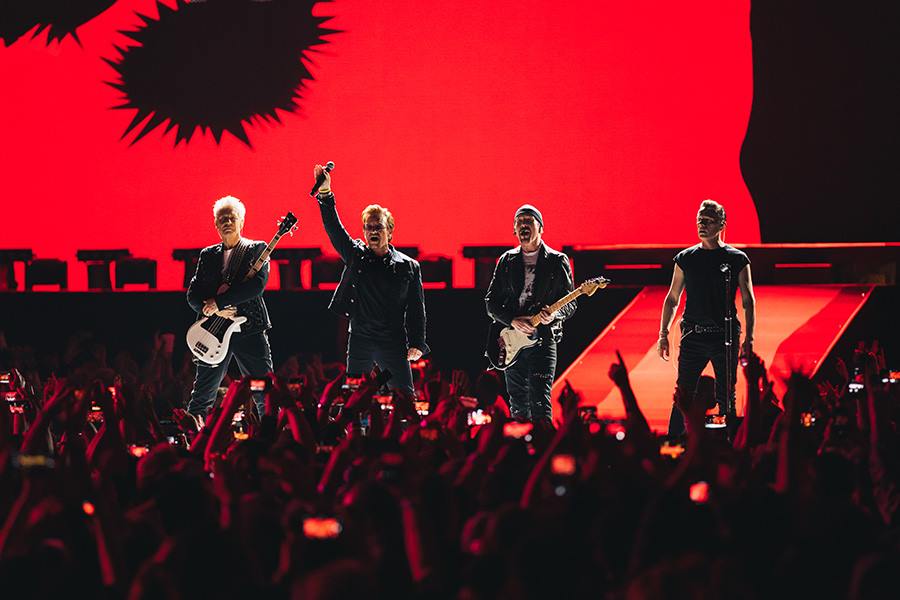 Having played to more than one million fans,the tour came to a triumphant close July 1st at the FirstEnergy Stadium in Cleveland. With ticket sales surpassing 2.4 million across North and South America, the UK and Europe, and Mexico, The Joshua Tree Tour 2017 has reaffirmed its standing as the most commercially and critically successful tour of the year.
The Joshua Tree Tour 2017, produced by Live Nation Global Touring, opened May 12th at BC Place in Vancouver and made its U.S. debut May 14th at CenturyLink Field in Seattle—the latter kicking off some of the most enthusiastic critical notes in the history of U2's relationship with America. Rolling Stone hailed the band as "a live act simply without peer," USA Today noted "Thirty years can't dull searing music, hopeful lyrics or the captivating Irish band behind them," while The New York Times added "For the performance of The Joshua Tree… the band members took places on the full-sized stadium stage. They were ascending the way their career did… The band was dwarfed, but the music wasn't. Larry Mullen Jr. on drums, Adam Clayton on bass and the Edge on guitar tore into the urgent rhythmic flux of 'Where the Streets Have No Name.' Against the craggy postpunk groove of 'Bullet the Blue Sky,' both Bono's falsetto and the Edge's guitar leads were keening sirens."
The reviews of The Joshua Tree Tour 2017's opening weekend set a tone that intensified throughout a North American run featuring 20 sold out stadium dates and U2's first ever U.S. festival headline June 9th at Bonnaroo.
UPCOMING TOUR DATES:

EUROPE:

SUPPORT:

July 8

London, UK

Twickenham

Noel Gallagher's High Flying Birds

July 9

London, UK

Twickenham

Noel Gallagher's High Flying Birds

July 12

Berlin, DE

Olympic Stadium

Noel Gallagher's High Flying Birds

July 15

Rome, IT

Olympic Stadium

Noel Gallagher's High Flying Birds

July 16

Rome, IT

Olympic Stadium

Noel Gallagher's High Flying Birds

July 18

Barcelona, ES

Olympic Stadium

Noel Gallagher's High Flying Birds

July 22

Dublin, IE

Croke Park

Noel Gallagher's High Flying Birds

July 25

Paris, FR

Stade de France

Noel Gallagher's High Flying Birds

July 26

Paris, FR

Stade de France

Noel Gallagher's High Flying Birds

July 29

Amsterdam, NE

Amsterdam Arena

Noel Gallagher's High Flying Birds

July 30

Amsterdam, NE

Amsterdam Arena

Noel Gallagher's High Flying Birds

August 1

Brussels, BE

Stade Roi Baudouin

Noel Gallagher's High Flying Birds

FALL TOUR:

SUPPORT:

Sept. 3

Detroit, MI

Ford Field

Beck

Sept. 5

Buffalo, NY

New Era Field

Beck

Sept. 8

Minneapolis, MN

US Bank Stadium

Beck

Sept. 10

Indianapolis, IN

Lucas Oil Stadium

Beck

Sept. 12

Kansas City, MO

Arrowhead Stadium

Beck

Sept. 14

New Orleans, LA

Mercedes Benz Superdome

Beck

Sept. 16

St. Louis, MO

The Dome At America's Center

Beck

Sept. 19

Phoenix, AZ

University of Phoenix Stadium

Beck

Sept. 22

San Diego, CA

Qualcomm Stadium

Beck

Oct. 3

Mexico City, Mexico

Foro Sol

Noel Gallagher's High Flying Birds

Oct. 4

Mexico City, Mexico

Foro Sol

Noel Gallagher's High Flying Birds

Oct. 7

Bogota, Colombia

Estadio El Campin

Noel Gallagher's High Flying Birds

Oct. 10

Buenos Aires, Argentina

La Plata

Noel Gallagher's High Flying Birds

Oct. 11

Buenos Aires, Argentina

La Plata

Noel Gallagher's High Flying Birds

Oct. 14

Santiago, Chile

Estadio Nacional

Noel Gallagher's High Flying Birds

Oct. 19

Sao Paulo, Brazil

Morumbi Stadium

Noel Gallagher's High Flying Birds

Oct. 21

Sao Paulo, Brazil

Morumbi Stadium

Noel Gallagher's High Flying Birds

Oct. 22

Sao Paulo, Brazil

Morumbi Stadium

Noel Gallagher's High Flying Birds
For complete tour and ticket information, visit: www.u2.com & www.livenation.com