Adele by Michael Ashton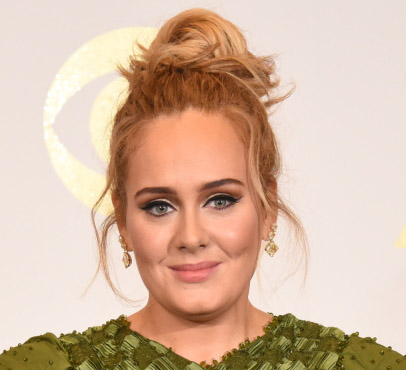 Last night Adele added five Grammy Awards to her list of industry hardware, and looked the part of a winner as well. Thanks to the artistic vision of Michael Ashton for Marc Jacobs Beauty and Ole Henriksen, Adele was flawless both on the red carpet and on the stage.
According to Ashton: "When it comes to creating Adele's red carpet looks, I like to take references from classic styling, films and iconic images then reinterpret them with my own aesthetic. This gives an end look that is polished and current, but also softly elegant and timeless."
How to get the look at home in 10 steps
Step One: cleanse skin using Ole Henriksen Pure Truth Melting Cleanser by massaging product into dry skin before removing using Ole Henriksen Pure Truth Nurture Me Cleansing Cloths.
Step Two: finger pat a small amount of Ole Henriksen Ultimate Lift Eye Creme to under eye area and leave to work its magic while you work the rest of your face.
Step Three: mix a few pumps of Ole Henriksen Pure Truth Vitamin C Youth Activating Oil into a small amount of Ole Henriksen Nurture Me Creme and then work into the skin with fingertips in a lifting motion outwards from the center of the face.
Step Four: massage Marc Jacobs Beauty Under(Cover) perfecting coconut face primer between the hands and then press into the skin to hydrate before buffing Marc Jacobs Beauty Genius Gel Super-Charged Oil-Free Foundation in 26 Bisque Medium using Marc Jacobs Beauty the Face II – sculpting foundation brush number two for a seemless application.
Step Five: add extra dimension to the face with Marc Jacobs Beauty Remedy Concealor Pen in 2 Wake-Up Call adding a sheer veil of product to the under eye area through the t-zone and high planes of the face before creating added depth with Marc Jacobs Beauty #instamarc Light Filtering Contour Powder in Dream Filter 20 under the cheekbones and around the perimeter of the hairline.
Step Six: for eyebrows, use Marc Jacobs Beauty Brow Tamer Grooming Gel to groom the shape and then fill and extend with a combination of Marc Jacobs Beauty Brow Wow Longwear Defining Eyebrow Pencil in taupe 2 and ashbrown 4.
Step Seven: eye shadow is kept to a minimum; apply a subtle wash of Marc Jacobs Beauty Twinkle Pop Stick Eyeshadow in Volver 402, a peach-champagne shimmer shade, across the eyelid and follow by gently contouring through the socket using the medium tone shadows from the Marc Jacobs Beauty Style Eye Con Number 7 Plush Eyeshadow Palette in the lolita 206.
Step Eight: using the Marc Jacobs Beauty Magic Marc'er Precision Pen Waterproof Eyeliner in blacquer, start on the inner corner of the eye and increase the width of liner as you extend towards the outer corner, finishing with a feline flick.
Step Nine: place lashes along the entire upper lashline before building up lash density with Marc Jacobs Beauty Velvet Noir Major Volume Mascara on the top and bottom lashes.
Step Ten: a perfect pout is a must; start by filling in the lip with amrc Jacobs Beauty Le Marc Liquid Creme in Slow Burn 458, a creamy nude rose, and fawn over me 452, a peach nude, working from the middle of the mouth and creating the desired shape using a lip brush; blot off the excess before tidying edges using lipliner and reapplying another slick of color.
Each product listed is available for purchase at www.sephora.com.