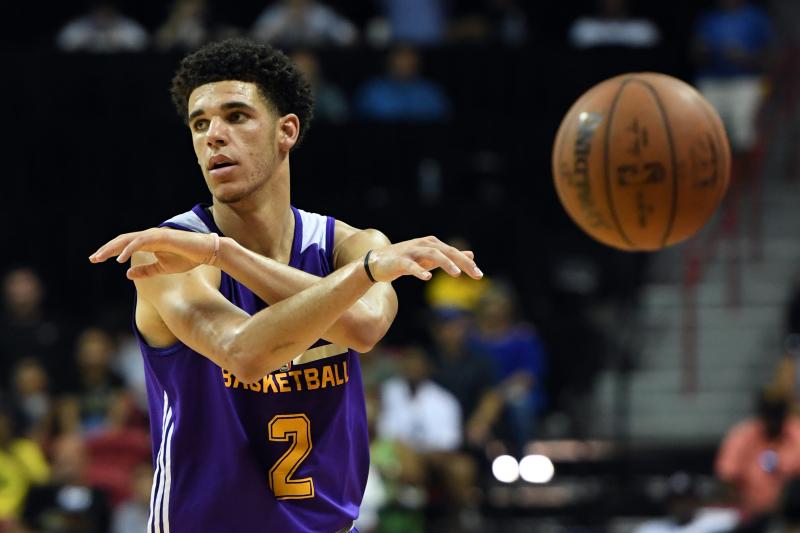 On Monday night in Las Vegas, the new-look Lakers were all smiles after winning their first Summer League Championship ever, as rookie sensation Lonzo Ball was named Most Valuable Player of the NBA's Las Vegas Summer League before he sat out the championship game due to a calf injury. The Los Angeles Lakers' second overall pick took home the honor after averaging 16.3 points, a summer league-leading 9.3 assists, 7.7 rebounds, 2.5 steals and 1.0 blocks per game. The Lakers' Summer League team also played to sell-out crowds each time they took the floor at the Thomas & Mack Center.
Los Angeles kept their prized rookie on the sideline against the Portland Trail Blazers after Ball suffered a mild calf strain in his right leg in the third quarter of Sunday's semifinal win over the Dallas Mavericks. In Ball's absence, rookie forward Kyle Kuzma finished with 30 points and 10 rebounds and won the championship game's MVP honors, while leading the Lakers to a 110-98 victory over the Blazers.
Ball already had shown summer league voters plenty. Joining Ball on the summer league first team were Atlanta's John Collins, Phoenix's Josh Jackson, Dallas' Dennis Smith, Jr. and Portland's Caleb Swanigan.
Ball's best scoring game of the summer league was a 36-point, 11-assist, eight-rebound performance against the Philadelphia 76ers. But more than anything else, Ball turned heads with his passing. Several of his assists came on full-court or three-quarter-court passes that led to easy transition dunks or layups.
"We are in a league right now that is kind of dominated by scoring point guards," Lakers general manager Rob Pelinka said before Ball suffered the calf injury. "And there's some great ones – don't get me wrong. But to kind of have this young kid come along, 19 years old, he is really changing the way point guards play with pass first, getting your teammates going first. It is amazing to watch. We feel like the way he's playing can really transform our whole team."