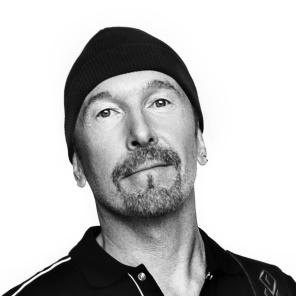 The Les Paul Foundation will honor GRAMMY™ Award winning artist, U2's The Edge with the second annual Les Paul Spirit Award at this year's Bonnaroo Music & Arts Festival.
The award will be presented to The Edge on Friday, June 9th, 2017, the same day Les Paul would have turned 102 years old. In 2016, the Les Paul Spirit Award was presented to Grateful Dead founding member Bob Weir.
"Notes actually do mean something. They have power. I think of notes as being expensive. You don't just throw them around," said The Edge.
The award is presented annually to an individual who exemplifies the spirit of the late, great Les Paul through innovation, engineering, technology and/or music. In addition to the award, a grant from the Les Paul Foundation and Bonnaroo Works Fund will be made in The Edge's name to the charity of his choice which aligns with the mission of the Les Paul Foundation. Like Les Paul, The Edge personifies a spirit of excellence through musicianship and industry recognition.
Like Les Paul, The Edge has always been focused on sound and innovation. In 2006, The Edge and Les Paul shared stories back stage in New York at a Music Icons event which benefitted Music Rising, a charity Edge co-founded in 2005. The Edge's extraordinary techniques can be heard on "Where the Streets Have No Name," "With or Without You," "Beautiful Day" and many more of the classics from the U2 catalogue being aired on the band's current The Joshua Tree 2017 stadium tour. Rolling Stone Magazine named The Edge one of the 100 greatest guitarists of all time, the same list that bore Les Paul's name as well.
"I cannot think of anyone more fitting to be honored this year with the annual Les Paul Spirit Award than The Edge. Not only is he an extraordinary talent who has given us an incredible array of amazing music but he is also an innovator who understands that sound, technologies, and a personal creative spirit play a role in creating music that cannot be forgotten. This is truly the spirit of Les Paul" said Michael Braunstein, Executive Director of The Les Paul Foundation.
"If Les were still alive today, I have absolutely no doubt that he and the Edge would be experimenting together likely at Les' house. It is truly a remarkable opportunity to present someone of such stature like The Edge this exclusive and prestigious award. I want to also thank Bonnaroo Works Fund for partnering with us on this exciting annual award which will continue to honor the true innovators of our industry."