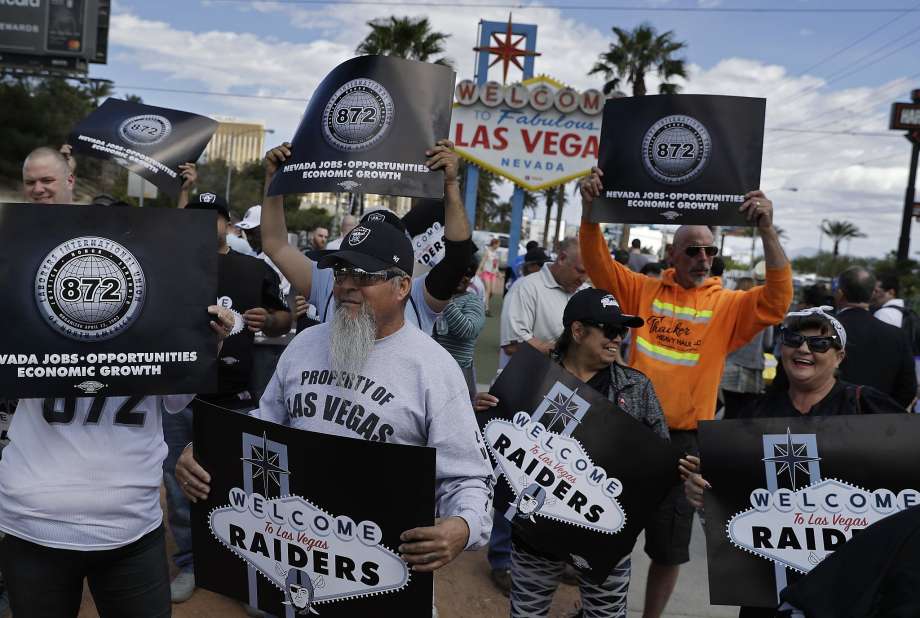 In what seems to be a continued effort to find a city that will love them unconditionally, the Oakland Raiders will move to Las Vegas after garnering enough votes from NFL owners on Monday to relocate to Southern Nevada. The Raiders received 31 of 32 votes to approve the move. Twenty-four votes were needed. This will be the teams' third relocation in franchise history, leaving Oakland for Los Angeles in 1982, only to return to Oakland in 1995.
"I have mixed feelings; it's very bittersweet," Raiders owner Mark Davis told ESPN.com after the announcement was made Monday. "I understand [Oakland fans] will be angry and disappointed. I want them to know that I do understand that it's emotional. Raider Nation is the greatest fan base in the world and we're going to build something to make them proud. But I also want them to give as much support to the team as possible as we attempt to bring a championship to the Bay Area." The Miami Dolphins were the only team to vote against the move.
"My position today was that we as owners and as a league owe it to the fans to do everything we can to stay in the communities that have supported us until all options have been exhausted. I want to wish Mark Davis and the Raiders organization the best in Las Vegas," Dolphins owner Stephen Ross said in a statement. With the Raiders' proposed 65,000-seat domed stadium — which will be shared with UNLV — not expected to open until 2020, Davis told ESPN he plans on staying in Oakland the next two seasons. The team holds a pair of one-year options at the Oakland Coliseum.
"My father always said, 'the greatness of the Raiders is in its future,' and the opportunity to build a world-class stadium in the entertainment capital of the world is a significant step toward achieving that greatness," Davis said in a statement. "I would like to thank Commissioner Roger Goodell, the National Football League and my 31 partners. I would also like to thank Governor Brian Sandoval and the Nevada Legislature for their commitment. Finally, I would like to thank Sheldon Adelson for his vision and leadership, without which this project never would have become a reality."
The Raiders have committed $500 million toward the $1.7 billion stadium project, with another $750 million coming in the form of a hotel tax passed by the Nevada Legislature in October. The team has informed the NFL that Bank of America is also helping to finance the deal after casino magnate Sheldon Adelson withdrew his $650 million pledge in late January, essentially saying the Raiders dealt with him in bad faith.