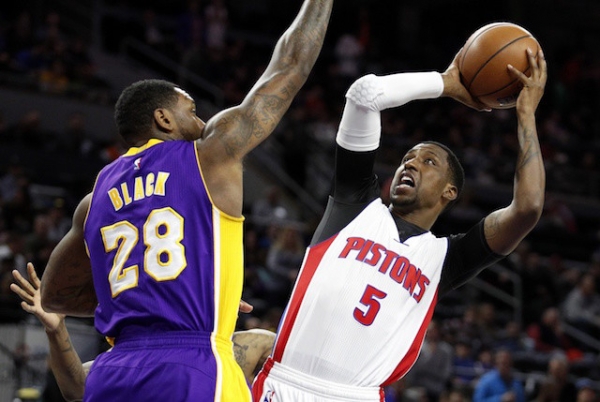 With the score knotted at 56-50, the Los Angeles Lakers entered halftime facing a manageable deficit against the Eastern Conference eighth-seeded Detroit Pistons, and also swung momentum in their favor after scoring the last four points of the second quarter.
It didn't amount to anything, however, and the Lakers let the game slip away after an atrocious third quarter where they were outscored 36-20. In the end, they lost the fourth game of their five game road trip, 121-102.
Besides turnovers, the Lakers' third quarter struggles revolved around two failures: the backcourt's lack of intensity, and the frontcourt's inability to defend the pick-n-roll.
With the score within reach at 60-52, Reggie Jackson began a 2-on-2 fast break, while D'Angelo Russell and Brandon Ingram casually back-pedaled into no-man's land. At the same time, Kentavious Caldwell-Pope dashed down the left sideline, leaving Nick Young–who did not sprint back on defense–in the dust. Jackson saw a streaking Caldwell-Pope and the two connected on an exciting alley-oop dunk. Timeout Los Angeles.
This wasn't the only lapse among these three starters, but it stuck out because it appeared to snowball into a series of miscues leading to easy Detroit baskets. Their effort was unrecognizable from Monday night, when they blew the New York Knicks out of the gym.
Andre Drummond had his way with the Lakers' big men, plain and simple; the main option in Stan Van Gundy's spread pick-and-roll offense scored 24-points and snagged 17-rebounds in just 28-minutes of action. Several of his 12 made field goals came via easy lobs when the Los Angeles big men didn't switch on his roll to the basket.
Besides their inability to make sound decisions defensively–which is a tough task for young players, make no mistake about it–Nance, Zubac and Tarik Black need to improve on their interior passing in short roll situations. This is when a back line defender switches to a rolling player after a catch, and others need to find shooters surrounding the three-point arch or cutters along the baseline.
This is the type of play that makes the Golden State Warriors so deadly; when Stephen Curry is trapped after a high screen, he'll pop the ball to Draymond Green who is flawless at finding shooters in 4-on-3 situations. Big men who can pass is crucial for an efficient offense in today's NBA. This needs to be a point of emphasis for the Lakers moving forward.
Ingram had his second consecutive strong performance since Luke Walton inserted the rookie into the starting lineup earlier this week. He finished with 15-points and five assists and was often the lone bright spot for Los Angeles during their blowout loss.
The Lakers will complete their five game road trip Friday against Giannis Antetokounmpo and the Milwaukee Bucks. Tip off is at 5:00 pm PST.