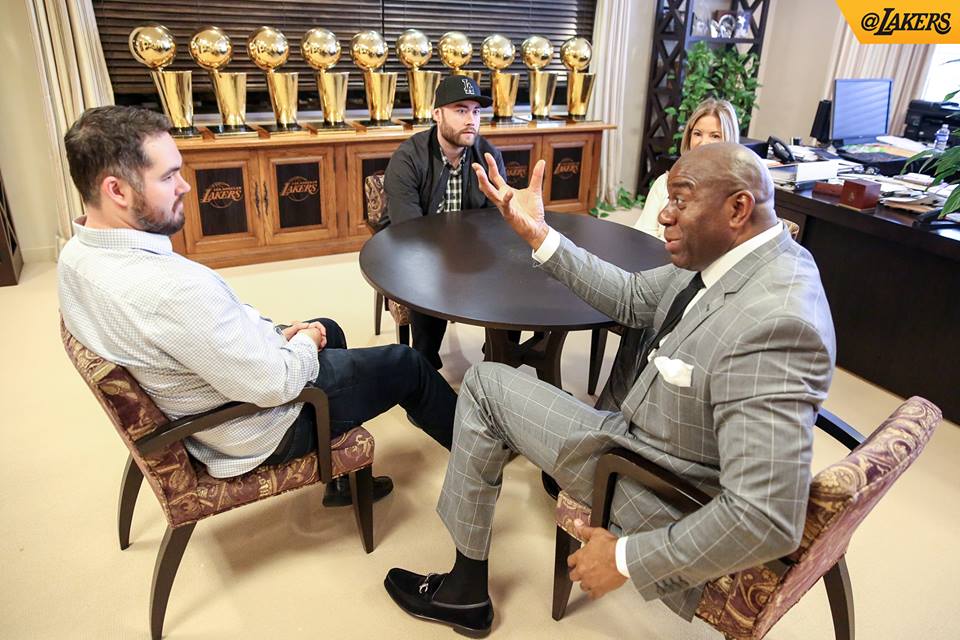 "If this doesn't work in three to four years, if we're not back on the top—and the definition of top means contending for the Western Conference, contending for a championship—then I will step down because that means I have failed." – Jim Buss (2014)
Following her brother's self-imposed deadline, Lakers Governor Jeanie Buss has announced Jim Buss will be relieved of his duties as Executive Vice President of Basketball Operations and Earvin "Magic" Johnson will assume the role of President of Basketball Operations. In addition, Buss fired long-time General Manager Mitch Kupchak during the front office shake-up.
"Today I took a series of actions I believe will return the Lakers to the heights Dr. Jerry Buss demanded and our fans rightly expect," Jeanie Buss said in a team issued statement. "Effective immediately, Earvin Johnson will be in charge of all basketball operations and will report directly to me. Our search for a new General Manager to work with Earvin and Coach Luke Walton is well underway and we hope to announce a new General Manager in short order."
Jeanie Buss hired Johnson as an advisor to ownership on February 2nd as the Lakers crept towards a fourth consecutive elimination from playoff contention. Bringing Johnson on board a couple months before the end of Jim Buss' timetable was the writing on the wall that changes were in order. Johnson seemed to confirm these suspicions when on February 10th he told USA Today of his desire to "call the shots" for the organization, despite the team's contention that the Hall of Fame point guard would "collaborate" with Buss, Kupchak and the rest of the organization.
While the promotion was expected, its timing is peculiar. Several Lakers have been swirling in trade rumors ahead of Thursday's trade deadline. Will talks resume or will all conversations start from scratch? Will there even be talks without an acting General Manager in place? It begs the question of why Johnson wasn't initially hired as President in the first place. Or, better yet, why didn't Jeanie Buss wait until the end of the season to reach a decision?
One possible factor for the timing of Johnson's promotion is Sunday's shocking trade which sent Demarcus Cousins to the New Orleans Pelicans. In exchange for their all-star center, the Kings received Buddy Hield, Langston Galloway, Tyreke Evans and two draft picks; basically trading 50 cents on the dollar. The Lakers, without question, could have offered a better package than the Pelicans, which would have given the purple and gold their coveted all-star piece.
In fact, prior to shipping Cousins to New Orleans, the Kings and the Lakers engaged in talks about a separate deal. According to ESPN's Marc Stein, talks halted when the Lakers expressed their unwillingness to trade Brandon Ingram. Regardless, a package including another young asset, Julius Randle or D'Angelo Russell, plus a first round pick would have been a better haul for Sacramento than what they ultimately received. It's worth wondering if Kupchak had dealt Ingram, who has had an up-and-down rookie campaign, to acquire Cousins, would he have saved his job? Perhaps Jeanie Buss and Johnson made that call. Who knows.
In recent years, the Lakers have lost their prestige in the eyes of free agents; their mismanaged objectives, disrespect of past champions like Derek Fisher and Pau Gasol, and their total free-fall from the championship conversation has all contributed to their decline in league perception. Times have gotten so bad that mid-tier veterans Timofey Mozgov and Luol Deng inked ridiculous overpays this past offseason when the Lakers couldn't secure a meeting with top-tier talent. As President, Johnson offers a new, friendly face to incumbent free agents and lineage to the teams' past glory.
That being said, free agency will continue to be a lost cause until the Lakers win more games. Jeanie Buss and Johnson will be under intense pressure to right the ship after passing blame onto Kupchak and Buss, who certainly deserved the criticism. Their first step will be hiring a General Manager. Afterwards, it'll take a little more than magic to return the Lakers to the Promised Land.