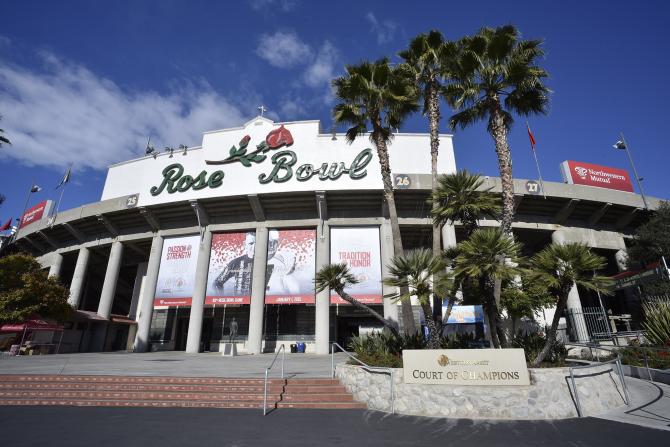 After the famous morning Rose Parade, the No. 5 CFP-ranked Penn State Nittany Lions, Champion of the Big Ten Conference, and the No. 9 CFP-ranked USC Trojans will play at the Rose Bowl Game presented by Northwestern Mutual at 1 p.m. PT (4 p.m. ET), Monday, January 2, 2017, at the Rose Bowl Stadium.
Penn State and USC have met twice in the Rose Bowl Game, including both of their most appearances in 2009. In that game, the No. 5 Trojans defeated the No. 6 Nittany Lions, 38-24, behind a four touchdown and 413-yard performance from USC's Mark Sanchez. The only other meeting between these two teams was back in 1923, the first game played at the Rose Bowl Stadium. USC also won that meeting, 14-3, but it is known because the game started 50 minutes late because PSU was stuck in traffic.
Penn State won its fourth Big Ten Championship after a comeback victory over Wisconsin, 38-31, to finish the season 11-2 overall and 8-1 in conference play. The Nittany Lions will make their fourth appearance in the Rose Bowl Game, with their last appearance in the Granddaddy of the All in 2009. Their overall record in the Rose Bowl Game is 1-2, with their lone victory in the 1995 Rose Bowl Game against the University of Oregon.
USC finished the season 9-3 overall record and a 7-2 mark in conference. The Trojans will make their 33rd Rose Bowl Game appearance on January 2, the most appearance by any school in history. Their last appearance in the game was in 2009 against Penn State and finished a stretch during which the Trojans played in four straight Rose Bowl Games and five in six years. They hold a 24-8 overall record in their Rose Bowl Game appearances.
Pre-game festivities on January 2, will begin at 1 p.m. PT (4 p.m. ET). The game will be televised nationally on ESPN.