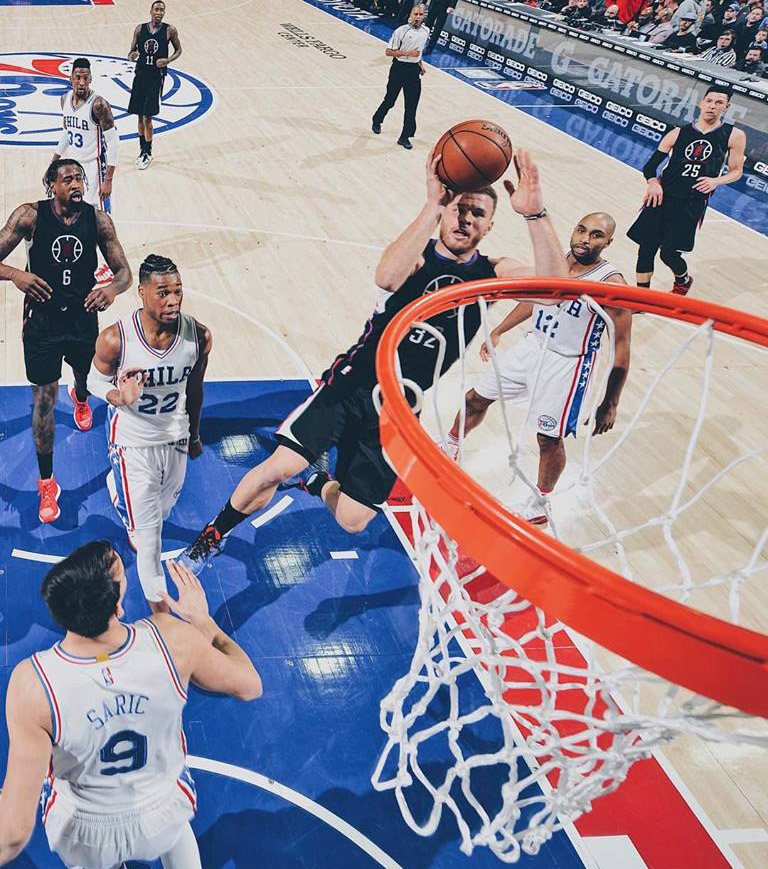 This season, the Los Angeles Clippers have again been bitten by the injury bug seeing their top two players, Blake Griffin and Chris Paul go down. Griffin returned to the lineup tonight after an 18 game absence, but it wasn't enough to spark a victory.
On the second game of a back-to-back road trip, the Clippers fell to the Philadelphia 76ers 121-110. For a consecutive night, Los Angeles watched a big second half lead slip through their fingers. On Monday, the Atlanta Hawks cut a 24-point lead to a five point margin before the Clippers recovered and pushed the game out of reach to win. Tonight, however, they couldn't withstand their latest collapse.
With 9:51 to play in the third period, Austin Rivers pushed the Clipper lead to 19 points, 78-59, with a driving lay-up. Up to this point, their offense was effective with pick-and-rolls and a motion offense. Griffin was pushing the ball in transition and facilitating for his teammates. Then, all of a sudden, the Clippers lost their legs as Philadelphia stepped up their pressure defense.
Philadelphia, playing without their sensational center Joel Embiid, dominated Los Angeles in the second half by getting whatever they wanted in their half-court game. Their guards were scoring from the perimeter, while Nerlens Noel (19 points) and Dario Saric (16 points) owned the low-post. For the game, the Sixers outscored the Clippers 66-20 in the paint. DeAndre Jordan (20 rebounds) is once again an all-defensive team candidate, but can only do so much when opposing players consistently drive past Clippers' defenders, forcing him to rotate to the ball.
Griffin flashed signs of his old explosiveness, including a tip slam through traffic to end the first half, but mostly looked rusty. He shot 3-11 from the field for the game and did not score a field goal in the second half. On several occasions his timing was off on simple passes he usually makes with ease; Griffin finished with five assists and six turnovers.
Griffin will find his rhythm, but the lackluster defensive performance by the backcourt is much more troublesome. Paul is sorely missed running the offense, but his impact at the other end seems to be an even bigger loss. With a primetime showdown coming up on Saturday in Golden State, against the league's best backcourt, the game could get out of hand in a hurry if the Clippers' guards can't contain drives or find open shooters consistently.
In fairness, assistant coach Mike Woodson coached the team while Doc Rivers was too ill to fulfill his duties. However, the Clippers will have three days off before their game Saturday night. Hopefully that is enough time to tweak the defense and get Rivers some rest.