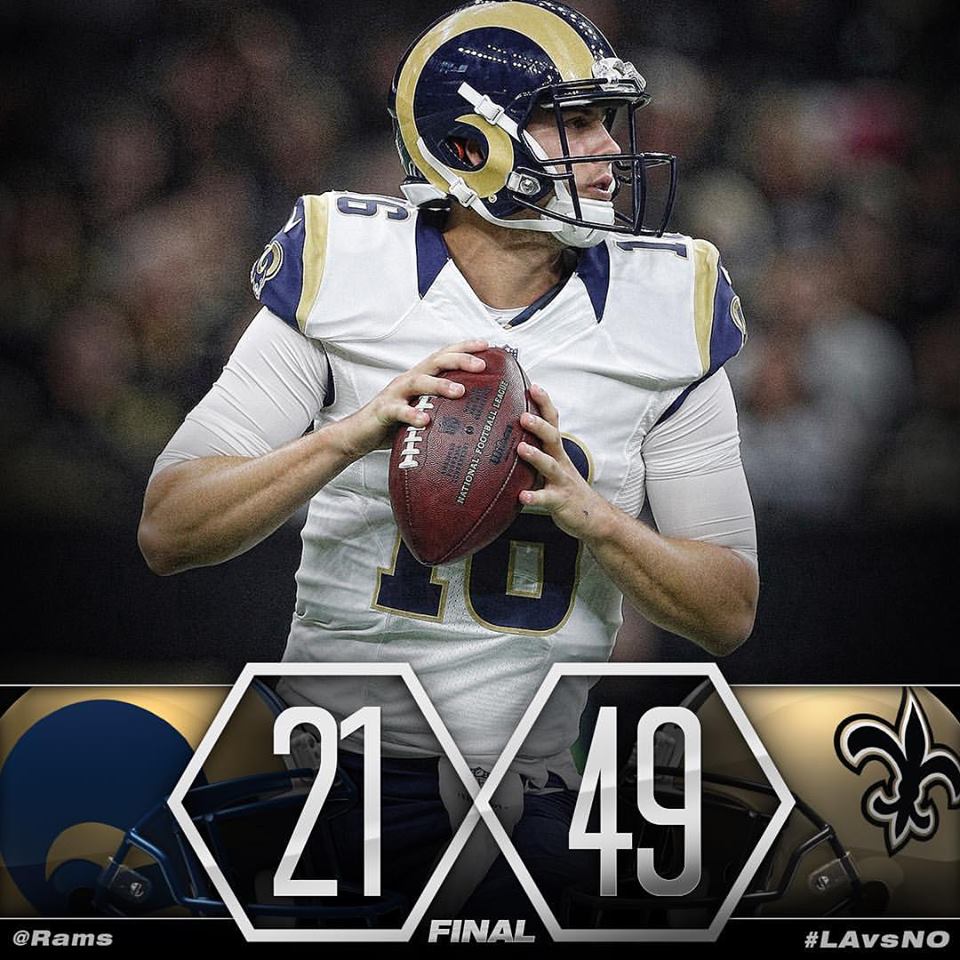 The Los Angeles Rams lost 49-21 to the New Orleans Saints, who dominated on both sides of the ball. This is the sixth Los Angeles loss in seven games.
Rookie quarterback Jared Goff threw his first career touchdown in his second career start, but Drew Brees stole the show. The perennial Pro Bowler threw for 310 yards and four touchdown passes, and led an offensive onslaught that the Rams offense couldn't dream of matching.
"The first half I thought we played really well on both sides of the ball," Goff said after the game. "In the second half we couldn't get that same momentum going." Los Angeles trailed 28-21 at halftime after Goff capped an impressive two minute drill with a 15-yard touchdown pass to Lance Kendricks. It was their final score of the afternoon.
Sunday's game was not indicative of the usually reliable Rams defense. The defense's streak of four consecutive games holding teams under 20 points ended after 555 total offensive yards was allowed against the Saints.
"This one came down to our lack of ability on defense to get the ball back and stop them," said Rams coach Jeff Fisher. "When you're relying on your defense week after week and waiting for your offense to step up, sometimes these things happen. It just wasn't a good day for us defensively."
Sunday's matchup was the first meeting between Saints head coach Sean Payton and Rams defensive coordinator Greg Williams since the two were suspended by the NFL for their roles in a pay for hits program during New Orleans' 2009-2011 seasons, known as "Bountygate."
While Payton was mannered in talking about the matchup, he seemed to take a greater satisfaction in the blowout win. The Saints last touchdown was a trick play where running back Willie Snead threw to Tim Hightower for a 50 yard score. It put New Orleans ahead by 28 points, the cherry on top of a thorough embarassment of Williams' defense.
Gofff finished with 214 yards passing and three touchdowns. According to Fisher, he showed improvement from last week's game. So far, the decision to finally start last year's first overall pick was the right decision becuse Goff is getting better.
The Rams have their work cut out for them next week as they travel to New England to play Tom Brady and the Patriots. Kick off is at 10:00am PST.