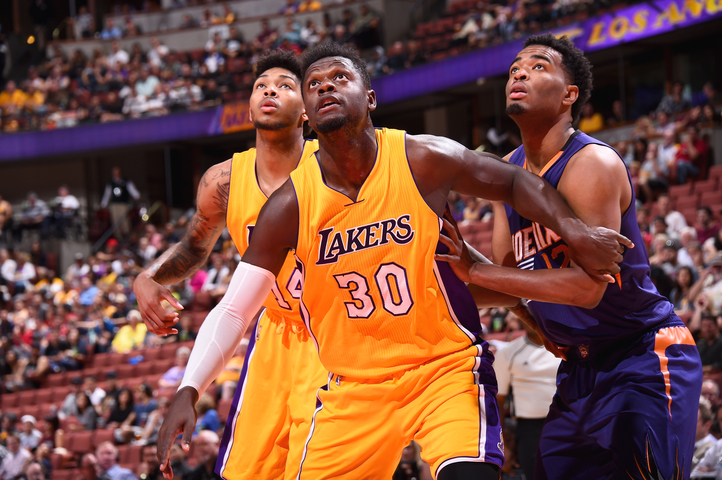 A new era is upon Los Angeles Lakers basketball.
Kobe Bryant won't be walking through the door; however the team is loaded with promise. Julius Randle, D'Angelo Russell, and Brandon Ingram are all highly touted prospects selected at the top of the draft. Russell showed flashes of all-star level talent this preseason, including a 33 point outburst in just 32 minutes against Denver. Randle was a double-double machine last season and Ingram has loads of potential and talent — although he needs to add some muscle. Larry Nance Jr. adds depth to the second unit.
Personnel isn't the only sign of a new beginning; the Lakers have a fresh face on the front of their bench. Former Laker, Luke Walton, replaces Byron Scott at the helm. Walton comes from Golden State where he served as an assistant to Steve Kerr for two years, winning one championship in 2015. When Kerr missed the first half of last season after back surgery, Walton led a successful interim campaign. The Warriors went 39-4 with Kerr out, including a 24-game win streak to start the season.
Critics will say Walton is unqualified for the job. After all, he's the youngest coach in the NBA at 36 — the same age as reserve Metta World Peace. That being said, during his 43 game interim run, Walton kept all-star egos in check and maintained a historic level of play. He didn't crash the car and there's something to be said for that.
"He's got these qualities that are hard to define," Warriors general manager Bob Meyers told Bleacher Report. "But you know them when you're around him."
Russell's lack of a relationship with Scott was well documented last season, but he seems to have gotten off on the right foot with Walton. It helps that the second-year guard admitted to playing as Walton often in the 2K video games.
In spite of having a tough time acquiring top free agents this summer, general manager Mitch Kupchak did manage to pick up a couple of veteran players that may help their cause. Albeit, both players were over-paid, the Lakers signed Timofey Mozgov from the defending champion Cleveland Cavaliers, as well as former all-star Luol Deng from the Miami Heat. These two veterans will add leadership both on the court and in the locker room. Kupchak also resigned explosive scoring guard Jordan Clarkson, who inked a four year-$50 million deal.
There is some optimism in Lakers-nation, but expectations are low. According to Las Vegas book makers, Los Angeles is projected to have the second-fewest wins in the NBA at 24.5. After a dreadful 17-65 season last year, 24 wins would be an improvement. Playing the young guns heavy minutes today will pay dividends in the future. However, inexperience will cost the Lakers in close games, but making mistakes is how players learn how to win.
After yesterday's practice, Walton told reporters that how his team plays is more important than the result: "The message we're sending our guys is [that] no matter what is said, even though this is one of the greatest organizations in all of sports, at this moment in time the only thing that matters is our guys that we have in there, and how they play." Effort and intensity is crucial this season regardless of wins and losses.
Amidst the growing pains, the Lakers should be fun to watch. They tip-off against James Harden and the Houston Rockets tonight at 7:30 PST.