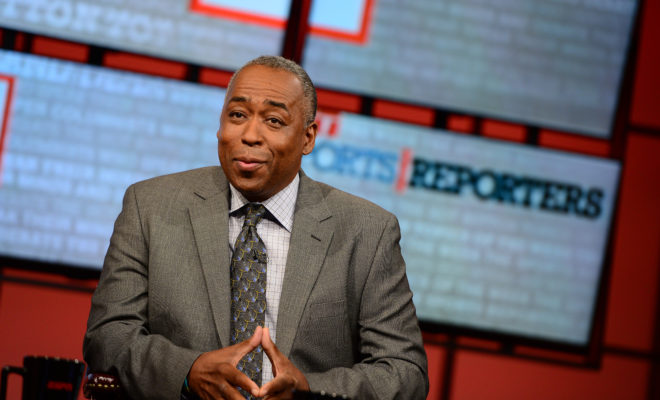 John Saunders, one of ESPN's most visible and versatile commentators and a founding member of the board of directors for The V Foundation for Cancer Research, has passed away. He was 61.
ESPN President John Skipper said, "John was an extraordinary talent and his friendly, informative style has been a warm welcome to sports fans for decades. His wide range of accomplishments across numerous sports and championship events is among the most impressive this industry has ever seen. More importantly, John was a beloved and devoted family man who cared deeply about people and causes, as evidenced by his long-standing efforts as a passionate board member for The V Foundation for Cancer Research. He was one of the most significant and influential members of the ESPN family, as a colleague and mentor, and he will be sorely missed. Our thoughts are with his loved ones at this extremely difficult time."
Saunders, who hosted and handled play-by-play for a variety of sports, joined ESPN in 1986 and was one of the company's most tenured commentators.
Saunders was host of ABC's Saturday studio coverage of college football and select editions of ESPN's College Football Live and ESPN's college basketball studio coverage. He hosted The Sports Reporters, the Sunday morning roundtable of sports journalists, since December 2001. In recent years, he also co-hosted NFL highlight segments on Sunday night editions of SportsCenter during the football season.
As part of his role in ESPN's college football, Saunders anchored studio coverage from the College Football Playoff National Championship and hosted the postgame trophy presentation.
A former colleague and close friend of the late Jim Valvano, Saunders was a founding member and served on the board of directors for The V Foundation for Cancer Research, and was actively involved in many of the organization's fundraising events and initiatives.
At ESPN, Saunders also called play-by-play for college basketball since 1990, WNBA from 1999-2001 and NBDL games in 2001. He hosted the NHL Stanley Cup playoffs (1993-2004), Baseball Tonight (1990-93), SportsCenter's coverage of the Final Four (1991-93), the World Series (1990-92) and Major League Baseball's All-Star Game (1990-92). He also hosted Rendez-Vous '87, the two-game series between the NHL All-Stars and the Soviets, and occasionally hosted ESPN's NHL telecasts in 1987-88.
Saunders' work on ABC started in 1990, hosting NCAA basketball telecasts beginning that first year, college football telecasts since 1992 and NHL action (1993, 1999-2004). He served as a contributor to Wide World of Sports, beginning in 1990, and also provided play-by-play of NCAA basketball games (since 1992).
Saunders joined ESPN in December 1986 as a SportsCenter anchor.