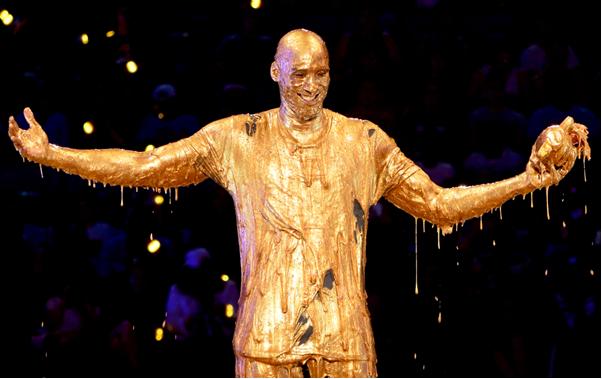 Mega-sports stars Stephen Curry, LeBron James, Alex Morgan, Cam Newton, Ronda Rousey, Odell Beckham Jr., Rob Gronkowski, Leticia Bufoni, Usain Bolt, Simone Biles and this year's host, Russell Wilson, were the winners at Nickelodeon's Kids' Choice Sports 2016, the only show where kids celebrate their favorite athletes and the year's most unforgettable sports moments.
Kids' Choice Sports 2016–helmed for a second straight year by Seattle Seahawks two-time Super Bowl quarterback Wilson–was taped Thursday, July 14, from UCLA's Pauley Pavilion in Los Angeles, and will premiere Sunday, July 17, at 8 p.m. (ET/PT) as a simulcast on Nickelodeon, TeenNick and Nicktoons.
Entering the arena greeted by hundreds of kid fans, NBA All-Star Kobe Bryant was presented with the gold-mohawked Kids' Choice Sports Legend Award by Zendaya, in recognition of his record-breaking achievements, unrivaled talent and outstanding sportsmanship on and off the basketball court. Upon receiving his award, Bryant was doused from head to toe in glistening gold slime.
Throughout the event, three kids competed in Nickelodeon's Kids' Choice Sports 2016 "Triple Shot Challenge" for an opportunity to each win $50,000. Pro-athletes cheered on Reynaldo Fernandez, of Los Angeles, Calif., Oliver Callanan, of Portland, Ore., and Jake Lombardo, of Wayne, N.J., as they each attempted to make their shot across basketball, soccer and football, respectively. Callanan took home the big win on his first try, with a 30-yard kick that hit the crossbar and earned him $50,000.
BEST MALE ATHLETE
LeBron James (NBA, Cleveland Cavaliers)
BEST FEMALE ATHLETE
Alex Morgan (NWSL, Orlando Pride)
FAVORITE NEWCOMER
Simone Biles (Professional Artistic Gymnast)
HANDS OF GOLD
Odell Beckham, Jr. (NFL, New York Giants)
CLUTCH PLAYER OF THE YEAR
Stephen Curry (NBA, Golden State Warriors)
SICKEST MOVES
Stephen Curry (NBA, Golden State Warriors)
DON'T TRY THIS AT HOME AWARD
Ronda Rousey (UFC, MMA Fighter)
KING OF SWAG
Cam Newton (NFL, Carolina Panthers)
QUEEN OF SWAG
Leticia Bufoni (Professional Skateboarder)
BEST CANNON
Russell Wilson (NFL, Seattle Seahawks)
BIGGEST POWERHOUSE
Rob Gronkowski (NFL, New England Patriots)
NEED FOR SPEED
Usain Bolt (Professional Track & Field Athlete)