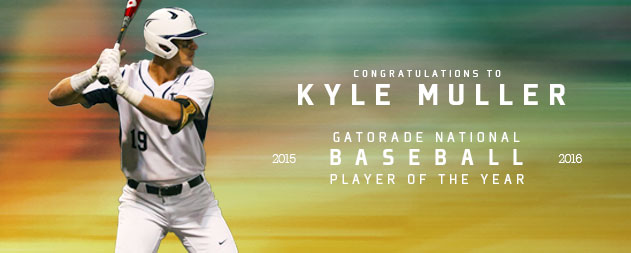 In its 31st year of honoring the nation's best high school athletes, The Gatorade Company, in collaboration with USA TODAY High School Sports, today announced Kyle Muller of Jesuit College Preparatory School (Dallas, Tx.) as its 2015-16 Gatorade National Baseball Player of the Year. Muller was surprised with the news at school by Texas Ranger and former World Series MVP Cole Hamels.
"It was exciting for me to be able to surprise Kyle with the Gatorade National Baseball Player of the Year award, especially because he is such a deserving student-athlete," said Hamels. "Kyle is a well-rounded individual who has already accomplished so much on and off the field, so it's an honor for me to welcome him into the prestigious Gatorade Player of the Year family."
The award, which recognizes not only outstanding athletic excellence, but also high standards of academic achievement and exemplary character demonstrated on and off the field, distinguishes Muller as the nation's best high school baseball player. A national advisory panel comprised of sport-specific experts and sports journalists helped select Muller from nearly 470,000 high school baseball players nationwide. He is now a finalist for the prestigious Gatorade Male High School Athlete of the Year award, to be presented at a special ceremony prior to The ESPY Awards in July.
The 6-foot-7, 245-pound left-handed pitcher and outfielder led the Rangers to a 34-8-2 record and the Class 6A Region 2 title. Muller owns an 8-0 record on the mound with a 0.46 ERA and 133 strikeouts, surrendering just 26 hits and issuing only 15 walks in 76 innings. The southpaw has hurled five shutouts and fired two no-hitters to post a WHIP of 0.54 entering the 6A state semifinals, scheduled for June 10.