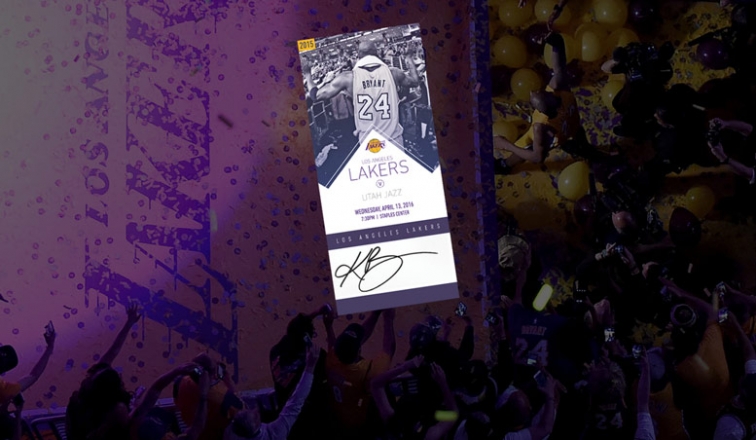 The Los Angeles Lakers unveiled a one-time commemorative court for Kobe Bryant's final career NBA game on April 13, 2016. The court honored Bryant's two jersey numbers with the Lakers, 8 and 24, in place of the customary secondary logo, "L". Following the game, Bryant autographed the numbers on the court.
Now the Lakers are auctioning off the three panels of hardwood that combine to create the number 8 to benefit the Lakers Youth Foundation. MeiGray, the NBA's official game used memorabilia authenticator, will sell the three panels as a single item in on-line auction. The auction will run until May 13, 2016 with a starting bid of $10,000.
The Lakers are also offering a raffle for special memorabilia from Bryant's final game at a more modest price. Fans can purchase raffle tickets for the chance to win one of 24 replica tickets from Bryant's final game, each autographed by Bryant. Tickets can be purchased at NetRaffle.org, starting at $10. "Conducting a raffle with a low price point gives all of our fans an opportunity to own a keepsake from that memorable night in Lakers history," said Kiesha Nix, Executive Director of the Lakers Youth Foundation. The raffle will run until May 13, 2016.
The Los Angeles Lakers Youth Foundation is a registered 501(c)3 organization and the official team charity of the Los Angeles Lakers. The Foundation's mission is to help underserved youth develop their potential by providing positive experiences and resources in education, health and wellness, and sports. The Foundation also awards grants to other charities that support youth through direct services and programs in these areas. The panels that combine to create the number 24 will be displayed as artwork in the Lakers new practice facility.