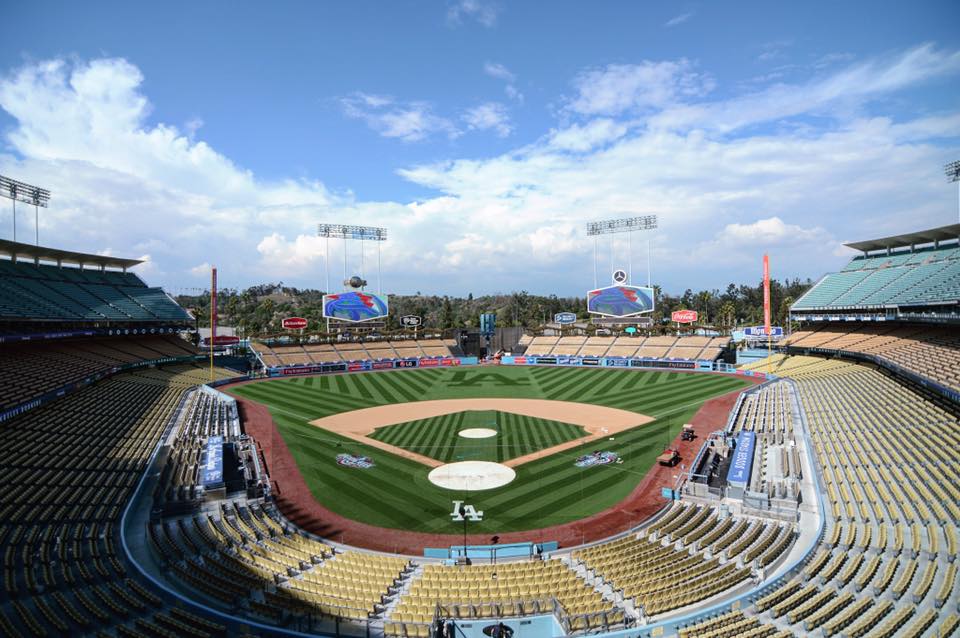 Tuesday, April 12th marks opening Day at Dodger Stadium.
The Dodgers have their home opener this afternoon against the Arizona Diamondbacks at 1:10 p.m., which is sold out. Special pregame ceremonies will honor Scully. Fans are encouraged to arrive early.
The stadium has a series of live events, including Sam Harris, lead singer of X Ambassadors, performing the national anthem, followed by a special ceremonial first pitch honoring Hall of Famer Vin Scully.
The Dodger Stadium Express will offer two services to Dodger Stadium — the Dodger Stadium Express Union Station and the Dodger Stadium Express South Bay. Both are free of charge with a Dodger game-day ticket.
If you don't want to worry about parking, Uber will drop off passengers at any of the five entry gates during pregame hours.
Just yesterday, the Dodgers and the city of Los Angeles dedicated Vin Scully Avenue in honor of Hall of Famer Vin Scully, who is in his 67th and final season in the broadcast booth for the Dodgers. The Hall of Famer's 67 years of consecutive service with the Dodger organization is the longest of any sports broadcaster with one team. The motion to change Elysian Park Avenue to Vin Scully Avenue passed Friday and was spearheaded by First District Councilman Gil Cedillo.
The Dodgers will pay tribute to Scully and his Hall of Fame career throughout the 2016 season: Tuesday, May 10 (7:10 p.m. vs. Mets), with Vin Scully Avenue T-Shirt night presented by Mercedes Benz of Southern California; Tuesday, September 20 (7:10 p.m. vs. Giants), with Vin Scully Bobblehead night, the final bobblehead giveaway of the season during the final regular season series at home; and Friday, September 23 (7:10 p.m. vs. Rockies), with Vin Scully Appreciation Night to include special pregame ceremonies, opportunities for fans to thank and pay tribute to Scully and Friday Night Fireworks presented by Denny's set to Scully's top calls of his career spanning more than six decades. The 2016 Los Angeles Dodgers Yearbook also features a special tribute to Scully, traveling from the start of his Dodger career in 1950 to the present.
The Dodgers also announced today a special 11-game mini plan that will offer fans the opportunity to secure tickets to every game featuring a tribute to Scully, in addition to every game after Opening Day, and is currently the only way to get tickets to attend Vin Scully Appreciation Night on September 23. More details can be found by visiting www.dodgers.com/miniplans.