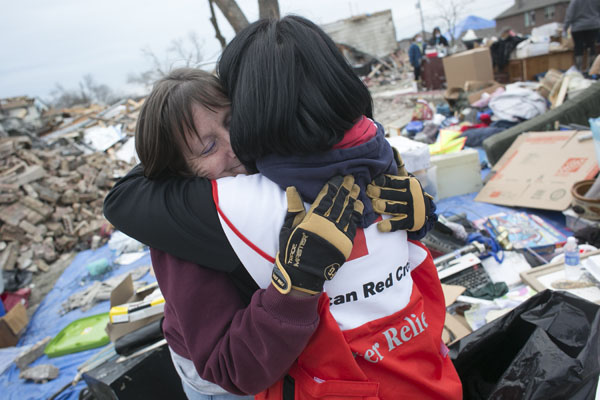 The American Red Cross is working around the clock to help people in Louisiana, Mississippi and Florida impacted by dozens of devastating tornadoes that swept through the area late Tuesday.
"Our first priority is making sure people affected by these very dangerous storms have a safe place to go," said Brad Kieserman, vice president of disaster operations and logistics for the Red Cross. "Red Cross disaster teams are helping now and we will continue to be there to support people as they get back on their feet and recover from these storms."
Tuesday night, more than 50 people sought refuge in Red Cross shelters in Florida and Louisiana. Red Cross workers are also providing relief supplies and feeding people impacted by the storms as well as first responders on the scene. Red Cross disaster assessment teams will be out today helping to determine the extent of the damage.
More severe weather is possible. The Red Cross is monitoring the situation and coordinating closely with state and local officials to ensure more help is available if needed. Information on how people can stay safe before, during and after a tornado is available on redcross.org.
DOWNLOAD EMERGENCY With the threat of more potential severe weather, people should download the free Red Cross Emergency App to receive emergency alerts and information about what to do in case of tornadoes and other disasters, as well as locations of shelters. The App also includes emergency first aid information and a Family Safe feature which allows people to instantly see if loved ones are okay. The free Emergency App is available in app stores by searching for the American Red Cross or going to redcross.org/apps.
HOW TO HELP Those who would like to help people affected by disasters like tornadoes and countless other crises can make a donation to Red Cross Disaster Relief. People can donate by visiting redcross.org, calling 1-800-RED CROSS or texting the word REDCROSS to 90999 to make a $10 donation. These donations enable the Red Cross to prepare for, respond to and help people recover from disasters big and small.
CORPORATIONS HELP The generous donations from members of the Red Cross Annual Disaster Giving Program (ADGP) and the Disaster Responder Program enable the American Red Cross to prepare communities for disasters big and small, respond whenever and wherever disasters occur and help families during the recovery process.