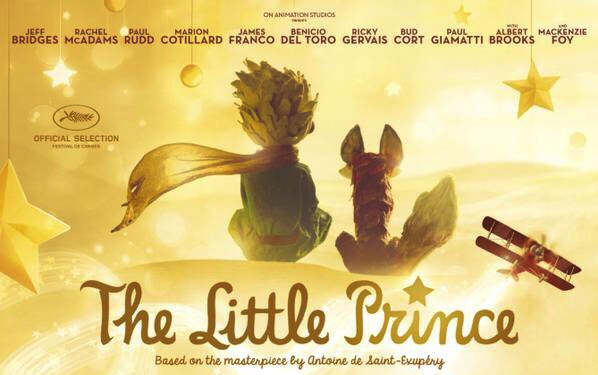 The Santa Barbara International Film Festival (SBIFF), presented by UGG, announced the highly-anticipated line-up for the 31st edition, which will run February 3rd to February 13th, 2016.
SBIFF 2016 will kick off on Wednesday, February 3rd, at the historic Arlington Theatre with the US Premiere of THE LITTLE PRINCE, directed by Mark Osborne and featuring the voices of Jeff Bridges, Rachel McAdams, Paul Rudd, Ricky Gervais, James Franco, Mackenzie Foy and Benicio Del Toro. THE LITTLE PRINCE is based on the classic tale of the same name by Antoine de Saint-Exupéry.
On Sunday, February 7th, Terrance Malick's experiential KNIGHT OF CUPS will have its US Premiere at the Arlington Theatre as the festival's Centerpiece Film. The highly anticipated film stars Christian Bale, Natalie Portman, Cate Blanchett, Frieda Pinto, Isabel Lucas, Imogen Poots, Wes Bentley, Brian Dennehy and Teresa Palmer, among others. KNIGHT OF CUPS follows writer Rick (Bale) on an odyssey through the playgrounds of Los Angeles and Las Vegas as he undertakes a search for love and self. Even as he moves through a desire-laden landscape of mansions, resorts, beaches and clubs, Rick grapples over complicated relationships with his brother (Bentley) and father (Dennehy). His quest to break the spell of his disenchantment takes him on a series of adventures with six alluring women: rebellious Della (Poots); his physician ex-wife, Nancy (Blanchett); a serene model Helen (Pinto); a woman he wronged in the past Elizabeth (Portman); a spirited, playful stripper Karen (Palmer); and an innocent Isabel (Lucas), who helps him see a way forward.
Xavier Giannoli's funny and emotional drama MARGUERITE will close out the festival on Saturday, February 13th. 1921, the beginning of the Golden Twenties. Not far from Paris. It is party day at Marguerite Dumont's castle. Like every year, an array of music lovers gathers around a great cause at the owner's place. Nobody knows much about this woman except that she is rich and that her whole life is devoted to her passion: music. Marguerite sings. She sings wholeheartedly, but she sings terribly out of tune. In ways quite similar to the Castafiore, Marguerite has been living her passion in her own bubble, and the hypocrite audience, always coming in for a good laugh, acts as if she was the diva she believes she is. When a young, provocative journalist decides to write a rave article on her latest performance, Marguerite starts to believe even further in her talent. This gives her the courage she needs to follow her dream. Despite her husband's reluctance, and with the help of a has-been divo, both funny and mean, she decides to train for her first recital in front of a crowd of complete strangers.
THE TRIBUTES
SBIFF has become an important showcase for Academy-Award® frontrunners, many of whom have arrived as nominees and gone on to win the Oscar. The 31st Santa Barbara International Film Festival proudly celebrates some of the year's finest work in film. The complete list of 2016 Honorees (in date order) is as follows:
· Scott Cooper will present Johnny Depp with the esteemed Maltin Modern Master Award sponsored by UGG, moderated by longtime friend and film historian Leonard Maltin on Thursday, February 4th.
· Michael Keaton, Mark Ruffalo and Rachel McAdams will receive the American Riviera Award sponsored by Engel & Völkers on Friday, February 5th.
· The 2016 Virtuosos Award sponsored by Travel + Leisure will be presented to Elizabeth Banks (LOVE & MERCY), Joel Edgerton (BLACK MASS), Paul Dano (LOVE & MERCY, YOUTH), Jacob Tremblay (ROOM), Alicia Vikander (THE DANISH GIRL, EX MACHINA), O'Shea Jackson Jr. (STRAIGHT OUTTA COMPTON) and Géza Röhrig (SON OF SAUL) in recognition of the year's emerging film artists. The evening will be moderated by Dave Karger, Chief Correspondent and host of "The Frontrunners" on Fandango on Saturday, February 6th.
· Brie Larson and Saoirse Ronan will receive the Outstanding Performers of the Year Award, moderated by Pete Hammond, on Monday, February 8th.
· The Montecito Award will be Tuesday, February 9th and is sponsored by Hennessy. Honoree to be announced.
· The Variety Artisans Awards will take place on Wednesday, February 10th and will be moderated by Variety's Sr. VP Awards Editor, Tim Gray. Honorees to be announced.
· The Outstanding Director of the Year Award sponsored by The Hollywood reporter will be Thursday, February 11th and will be moderated by THR's Scott Feinberg. Honorees to be announced.
· Rooney Mara will receive the Cinema Vanguard Award, presented to her by Cate Blanchett, on Saturday, February 12th.
All tributes take place at the historic Arlington Theatre except the Variety Artisans Award which will be at the Lobero Theatre.
THE PANELS
SBIFF has become renowned for creating smart, insightful panels that feature a who's who in the world of filmmaking, including many Oscar® contenders.
The panel series begins on Saturday, February 6th with the "Movers and Shakers," (Producers Panel), bringing together the industry's most prolific producers to talk about current projects, hopes for the future of filmmaking, and insights into the creative process. Moderated by Los Angeles Times film writer Glenn Whipp.
That same day proceeds with "It Starts With the Script" (Screenwriters Panel), bringing together top writers to discuss their craft. The panel will be moderated by indieWIRE's Anne Thompson.
On Saturday February 13, with Creative Forces: Women in the Business (Women's Panel), moderated by Madelyn Hammond, President, Madelyn Hammond & Assoc., and Former Chief Marketing Officer for Variety. The Women's Panel is sponsored by Brooks Institute.
All panels take place at the Lobero Theatre.