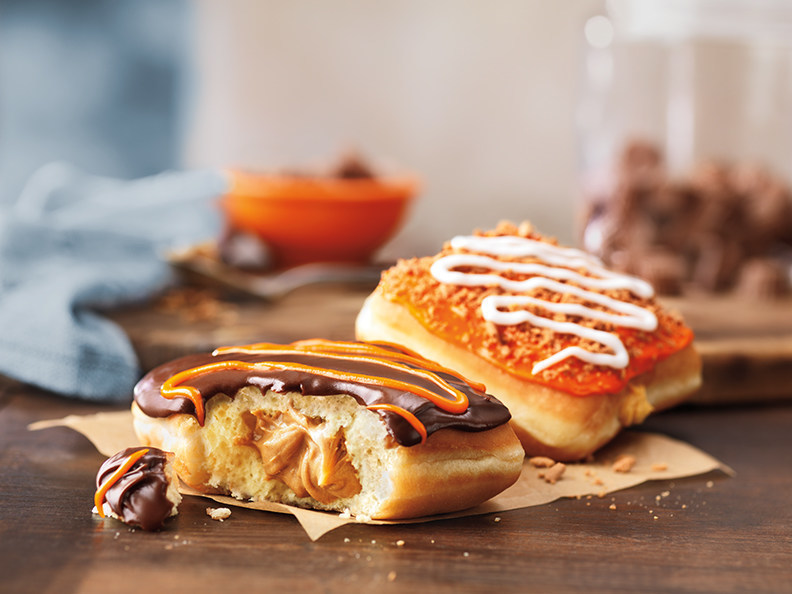 Our mouths are already watering for fall donut season! This autumn, Dunkin' Donuts is sweetening the season with the addition of two exciting new donuts to its fall lineup. For the first time, Dunkin' Donuts has partnered with The Hershey Company to put the tastes of creamy chocolate and REESE'S Peanut Butter together in one tasty treat with the new REESE'S Peanut Butter Square.
For pumpkin fans looking to celebrate a favorite flavor of fall in a fun new way, Dunkin' Donuts has also expanded its famous pumpkin menu with the introduction of the Pumpkin Cheesecake Square. Both items will be available for a limited time at participating Dunkin' Donuts restaurants beginning August 31.
A creative twist on the classic candy, Dunkin' Donuts' new REESE'S Peanut Butter Square is filled with rich and creamy REESE'S peanut butter buttercreme, topped with chocolate icing and finished with an orange icing drizzle to match the colors of the traditional REESE'S Peanut Butter Cups. The Pumpkin Cheesecake Square is filled with smooth and creamy pumpkin cheesecake filling and topped with orange icing, crumbled graham cracker topping and finished with a white icing drizzle.