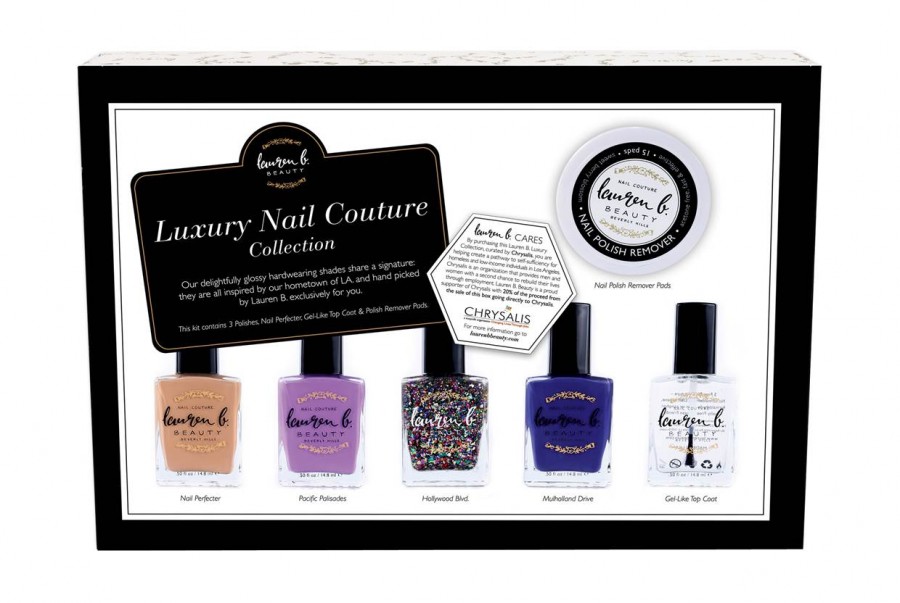 Lauren B. Beauty's latest collaboration with a local LA non-profit organization is combining beauty and fundraising!

During the month of August, Los Angeles-based, eco-friendly, luxury nail care company Lauren B. Beauty is launching a donation program supporting Chrysalis, a local nonprofit organization that helps put homeless and low income individuals on the path to self-sufficiency by giving them the resources and support they need to find and keep jobs.
Beginning August 1st, the brand will donate 20% of the proceeds from the sale of the Lauren B. Cares Chrysalis Collection to the nonprofit organization.
Over the past 30 years, Chrysalis has developeda nationally recognized program that offers services to low income and homeless individuals in Los Angeles County, helping them to prepare for, attain and sustain employment. They offer their clients a hand up, not a hand out, building upon their strengths and helping to reduce or eliminate any barriers to employment.
All of Lauren's nail polish shades are inspired by her hometown of L.A. With this set, she's giving back to her community.  Lauren B., a nail-polish fiend for as long as she can remember, earned her stripes in the high-end beauty world while working for Philip B. Botanicals, her uncle's cult-favorite haircare brand. She leveraged that knowledge to achieve her dream: the perfect, safe, do-it-yourself manicure for busy women. The polishes swipe on expertly and easily, dry fast, and stay glossy and chip-free (truly!) for at least 14 days.
To find out more about the Lauren B. Cares Chrysalis Collection, click on the "Lauren B Cares" tab at LaurenBBeauty.com
For more information about Chrysalis Enterprises or to donate, go to www.changelives.org