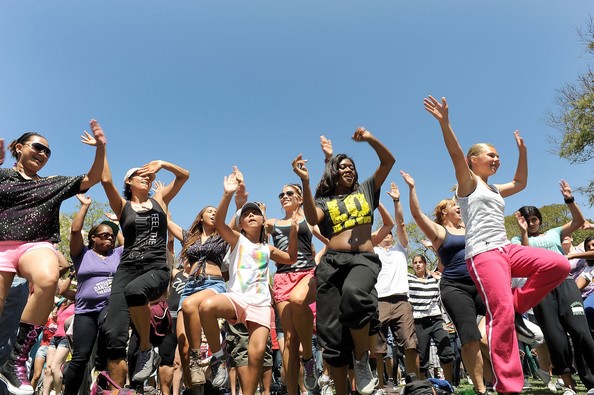 Nigel Lythgoe Co-Creator, Executive Producer and Judge of the hit FOX TV show – "So You Think You Can Dance (SYTYCD)" – is proud to announce that the 6th annual National Dance Day will take place on Saturday, July 25. National Dance Day raises awareness about and encourages Americans to embrace dance as a fun, positive way to maintain good health and combat obesity.It achieved national recognition when, in 2010, long-time proponent of healthy lifestyles, American congresswoman Eleanor Holmes Norton, introduced a National Dance Day resolution to promote dance education and physical fitness. Continuing the tradition of last year's ground-breaking alliance of the nation's leading cultural organizations in Los Angeles, New York and Washington, D.C., National Dance Day is proud to also partner with Eventbrite to bring forward inclusive, all-day programming to get people up and moving.
In Los Angeles, The Music Center is partnering with The Dizzy Feet Foundation to present the west coast's flagship free celebration of National Dance Day for the fourth year in a row, featuring an all-day dance extravaganza with both performances and participatory elements. Dancers of all skill levels and ages are invited to join Lythgoe who will lead the crowd in the official National Dance Day routines. The day continues with the opportunity for audiences to learn repertoire from some of Los Angeles' best dance companies, including the San Pedro Ballet, and enjoy interactive performances by Invertigo Dance Theatre as well as a workshop by Brisbane, Australia-based Bust A Move, an inclusive dance program for teens and young adults with disabilities.
In New York, Dancer/Choreographer and SYTYCD Judge Adam Shankman will lead the festivities in front of Lincoln Center's iconic Revson Fountain, and will also be joined by SYTYCD All Star Alex Wong in teaching dancers of all ages and abilities various dance routines as part of the New York celebration of National Dance Day.
The celebration in Washington D.C. is in collaboration with the Kennedy Center's 25/40 Celebration, commemorating the 25th anniversary of the signing of the Americans with Disabilities Act and the 40th anniversary of VSA. A variety of artists will headline the festivities at the Kennedy Center's Millennium Stage, including Baakari Wilder, tap dancer famous for his Broadway role in Bring in da Funk, Bring in da Noise; Antoine Hunter, Deaf African American choreographer; Culture Shock, a D.C. based hip-hop crew; Evan Ruggiero, one-legged tap dancer, singer, and guitarist and AXIS Dance Company, one of the world's most acclaimed physically integrated companies, along with SYTYCD Season 9 Alumni Cyrus "Glitch" Spencer.