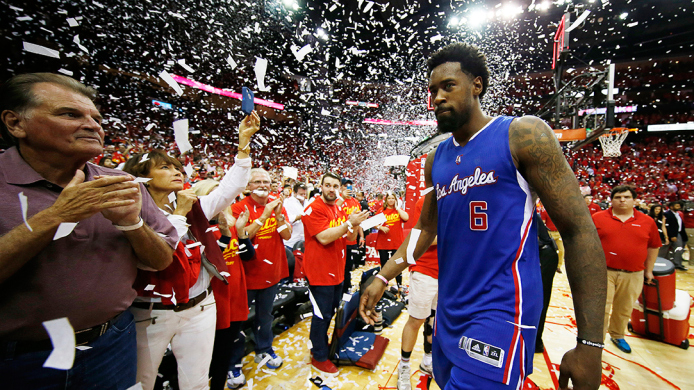 Photo: Scott Halleran/Getty Images
With 14 ½ minutes left in game 6 of the Western Conference semi-finals, and holding what seemed to be an insurmountable 19-point lead against The Houston Rockets, the Los Angeles Clippers were poised to make history and advance to their very first Western Conference Finals series. The Staples Center crowd was dancing in the aisles and owner Steve Balmer was full of exuberance and all smiles. The only thing left to do was pop the champagne. Or so it seemed. What everyone forgot is that there were still 14 ½ minutes left in the game and the Rockets had not stopped playing, even though the Clippers had gone into cruise control. What happened next will go down in Clipper-lore as one of the greatest collapses in NBA history.
The Rockets overcame a 19-point deficit to win game 6 and force a seventh and deciding game in Houston. Instead of earning their first ever appearance in the Western Conference Finals, the Clippers were losers in only the ninth time in NBA history that a team has overcome a 3-1 series deficit to win a playoff series.The Clippers lost game 7, 113-100, ending their season on the wrong side of history. "It's disappointing," Griffin said. "We were close, but close doesn't really count. Almost doesn't count. We were up 3-1 and didn't put them away. We can't look at anybody but ourselves." There will be plenty of finger-pointing and soul searching for the next few months as the team tries to recover from the devastation of such a loss. And Doc Rivers and his staff will have a lot of questions to answer in regards to their roster in the off-season.
It is painfully obvious that the Clippers bench was one of their downfalls, as they were rarely able to outscore the opposing team's reserves. "I love my team," Clippers coach Doc Rivers said. "I love the fact that they wanted to win so bad that, in my opinion, we almost couldn't win. We have to fix that part. It requires great trust in each other. Our guys were trying to do it on their own." With hopes of being compared to their hometown rivals The Lakers, as being a championship contender, they have matched one of the Lakers accomplishments; the Steve Nash-led Phoenix Suns came back from a 3-1 deficit to defeat the Lakers in 2006 to win their first-round series. They have that in common, although I'm pretty sure that's not one of the things they had in mind.