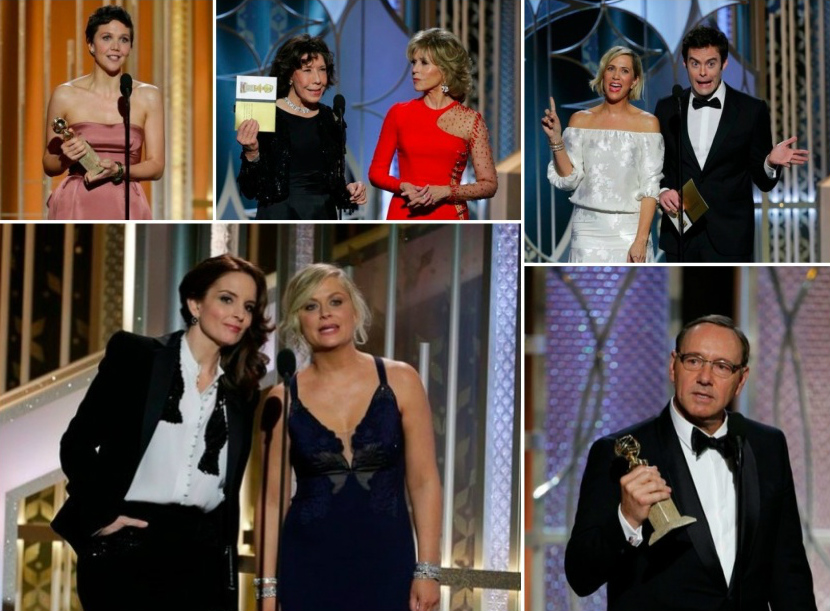 Photos: 2015 NBCUniversal Media, LLC
The season of red carpet glamour and golden statuettes has officially begun; starting with the 72nd Golden Globe Awards, which took place LIVE on NBC Sunday night from the Beverly Hilton. The always funny, Tina Fey and Amy Poehler hosted for the third year in a row. While there were many humorous 'talk-about' moments; Jeremy Renner commenting on Jennifer Lopez' 'globes' and Ricky Gervais' cheeky presentation, many celebrities seriously acknowledged the Charlie Hebdo massacre throughout the evening. George Clooney ended his light, yet touching Cecil B. DeMille Lifetime Achievement Award speech with a #JeSuisCharlie tribute and a raise of his statuette.

On the winner's end, in TV, Showtime's "The Affair" won big for Best Actress, Drama and Best Drama series. In film, Richard Linklater's "Boyhood" was a favorite among the Hollywood Foreign Press, winning Best Director, Best Drama and Best Supporting Actress. Michael Keaton gave an emotional and grateful speech for Best Actor, Comedy or Musical. Here are the 2015 Golden Globe Award winners..

Supporting actress
Patricia Arquette, Boyhood
Supporting actor
Animated feature film
How to Train Your Dragon 2
Best Actress, comedy or musical
Amy Adams, Big Eyes
Best Screenplay
Alejandro Gonzalez Inarritu, Nicolas Giacobone, Alexander Dinelaris, Armando Bo, Birdman
Original song
John Legend, Common, Glory (Selma)
Original score
Johann Johannsson, The Theory of Everything

Best Drama
Boyhood
Best Comedy or Musical
The Grand Budapest Hotel
Best Actor, drama
Eddie Redmayne, The Theory of Everything
Best Actress, drama
Julianne Moore, Still Alice
Best Actor, comedy or musical
Michael Keaton, Birdman
Best Director
Richard Linklater, Boyhood
Best Foreign film
Leviathan
PRIME-TIME TELEVISION
Best Actor, comedy series
Jeffrey Tambor, Transparent
Best Supporting actor, series, miniseries or TV movie
Matt Bomer, The Normal Heart
Best Comedy
Transparent
Best Actress, comedy series
Gina Rodriguez, Jane the Virgin

Best Miniseries or TV movie
Fargo
Best Actor, miniseries or TV movie
Billy Bob Thornton, Fargo
Best Drama
The Affair
Best Actor, drama series
Kevin Spacey, House of Cards
Best Actress, drama series
Ruth Wilson, The Affair
Best Actress, miniseries or TV movie
Maggie Gyllenhaal, The Honorable Woman
Best Supporting actress, series, miniseries or TV movie
Joanne Froggatt, Downton Abbey