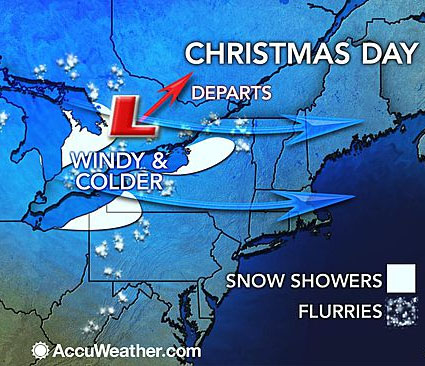 Holiday travel is the first thing on everyone's mind this week who has a plane ticket in hand and a plan for a long drive to visit family.

According to AccuWeather, most of the Northeast will see a wet and mild Christmas Eve and a windy and chillier Christmas Day. There is a storm brewing that could cause flight delays along the Northeast, Midwest and South leading up to the big holiday.
Christmas morning should be very mild along the I-95 corridor, where temperatures in Boston, New York, Philadelphia and Washington will be near 60. Temperatures will then fall into the 40s during the afternoon.
Across the interior Northeast, temperatures will go from near or above 50 on Wednesday to the 30s for much of Christmas Day.
AccuWeather Senior Meteorologist Carl Babinski said, "The strongest wind gusts will be across upstate New York and northern New England, closer to the departing storm system in eastern Canada."
Meanwhile, Southern California should be seeing mostly sunny skies with tempuratures in the mid-60s and 70s.
In the south, the worst of the rain and thunderstorms will swing across southeastern Georgia and northeastern Florida on Wednesday morning. However, drenching rain and thunderstorms will swing through the I-85 swath from Atlanta and Charlotte, North Carolina, and farther east in Augusta, Georgia, Columbia, South Carolina, and Raleigh, North Carolina. Flight and highway travel delays may increase substantially during this time.
During Wednesday, the risk torrential downpours and locally severe thunderstorms will shift to the I-95 swath from central and northeastern Florida to the coastal part of the Carolinas and southeastern Virginia. Cities from Daytona Beach, Florida, to Charleston, South Carolina, Wilmington, North Carolina, and Virginia Beach, Virginia, could be hit by a gusty, drenching thunderstorm.