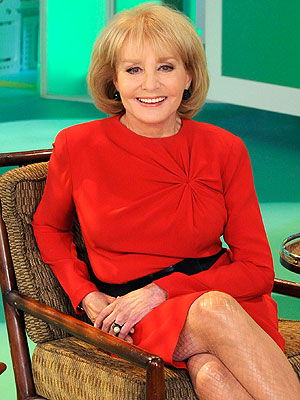 The popular, long running special, "Barbara Walters Presents: The 10 Most Fascinating People of 2014," will return to ABC primetime as a two hour ABC News special highlighting some of the year's most prominent names in entertainment and popular culture.  This year's special will air SUNDAY, DECEMBER 14 (9:00-11:00 pm, ET), on the ABC Television Network.
Hosted by Barbara Walters, the special includes: the phenomenon that is Taylor Swift, media powerhouse Oprah Winfrey, the dynamic, no holds barred comedian Chelsea Handler, multitalented entertainer Neil Patrick Harris, the fiercely private and critically acclaimed actress Scarlett Johansson, longtime NFL player turned talk show host Michael Strahan and billionaire philanthropist and political activist David Koch. The Number One Most Fascinating Person of 2014 will be announced on the program.
"When ABC approached me to do another year of '10 Most Fascinating People', I just couldn't say no" said Walters. "I know we said last year was our last, but there are just too many fascinating people out there and ABC gave me a coveted two hour time slot to showcase them all.  The extra time enables us to bring viewers more meaningful and in depth interviews that I just couldn't pass up." 
She's been breaking records for years, but this year, she even surpassed herself.  Taylor Swift continues to outdo her own sales numbers, her own charting records and continues to be a music and entertainment phenomenon worldwide.  Taking a break from her whirlwind promo tour for record breaking new album, "1989," the star catches up with Walters to talk about her high profile life, her soaring career, and how she doesn't take anything for granted. "I don't even know how to tell you how excited I was about the first week sales and everything, because you know where the music industry has been in the last few years. I think people make the mistake of thinking that because they have had success, that they are immune to people losing interest. I am very well aware of the fact that I am not entitled to anything," Swift told Ms. Walters.
Walters also sits down with Oprah Winfrey, one of the most recognizable and powerful forces in media & entertainment.   She owned the talk show space for decades with "The Oprah Winfrey Show," has been successfully publishing her own magazine since 2000 , has her very own television network and has gone on to star in and produce critically acclaimed, award winning films including the upcoming much buzzed about, "Selma." The icon took a moment to talk with Ms. Walters about how over the years she, "Wished I had enjoyed it more," but how at 60 years old she doesn't have any regrets and she works hard now to, "build in the time to experience some of life."
Walters also sits down with the irreverent Chelsea Handler.  Handler was thrust into the spotlight when her late night chat show on the E! Network took off, far surpassing expectations.  She has gone on to be a New York Times bestselling author, and continues to tour the country on her stand-up comedy act.  As she preps for her next gig with Netflix, Handler tells Ms. Walters, "Even if my shows never air on this network, it's already a better relationship… I went in and I sat down and I met with the President of Netflix, Ted Sarandos, and his team.  I was so impressed by them. And they didn't come after me, I went to them.  I thought, these are a group of people whose opinions I would respect. And I would regard."
Hollywood first took notice of Neil Patrick Harris when he graced TV as a young wiz kid surgeon on "Doogie Howser, M.D."  He went on to star in "How I met Your Mother" a show that secured his place among Hollywood elite.   He has performed on Broadway, most recently in "Hedwig and the Angry Inch," and starred in films like the box office smash "Gone Girl."  When Ms. Walters sat down with the multi-talented star, she was sure to tell him what she thought of his polarizing roles.  "I loved you when I saw you on Broadway.  And then, I knew I was doing this interview so I finally got to see 'Gone Girl' and I don't like you at all.  You are a weirdo. I'm forcing myself to do this interview," joked Ms. Walters.  Next up for Neil is his much anticipated hosting gig for this year's Oscars.  He tells Walters, "I thought it meant that I would never host the Oscars, because I've hosted so many other shows in the past. I'm both thrilled and nervous… I'm an easily star struck guy, I think it'll be wild.  And I hope it's a classy, sharp, quick night."  As for if he thinks he'll be nominated for his role in Gone Girl, "I doubt it. Creepiest sex scene," he joked. 
"Avengers" star Scarlett Johansson secretly wed Romain Dauriac this year. She also gave birth to their first child, a daughter named Rose. Johansson, who will star in "Avengers 2," sat down with Ms. Walters talking to her about everything from her career, body image, motherhood to her relationship.  She told Ms. Walters, "I don't think humans are monogamous by nature. I think being in a committed relations takes work. It's very easy to leave a situation when it gets uncomfortable or feels like a challenge…… it's challenging. But when it works, it's really worth it."