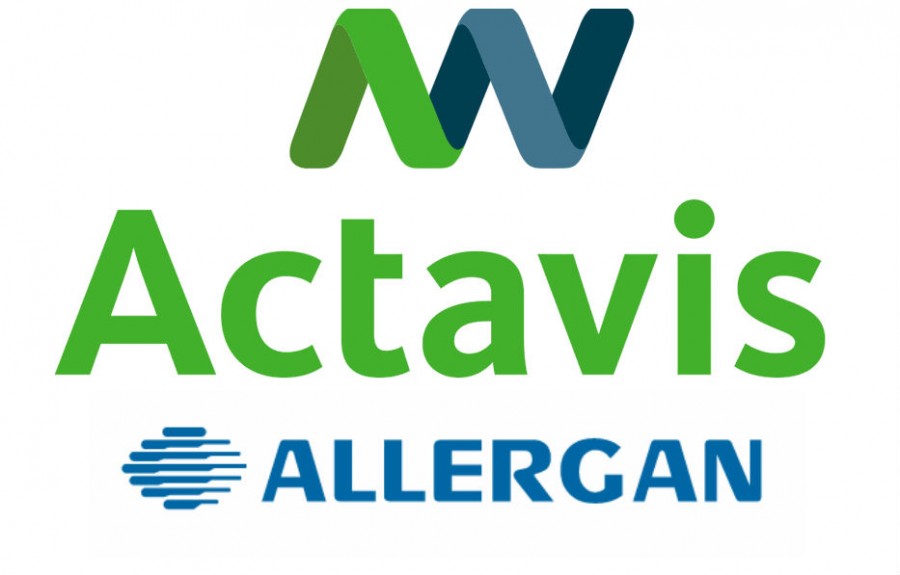 Actavis and Allergan, Inc. today announced that they have entered into a definitive agreement under which Actavis will acquire Allergan for a combination of $129.22 in cash and 0.3683 Actavis shares for each share of Allergan common stock. The deal is valued at $66 billion, or $219 per Allergan share.
The combination will create one of the top 10 global pharmaceutical companies by sales revenue, with combined annual pro forma revenues of more than $23 billion anticipated in 2015. Actavis anticipates that the expected permanent financing structure, consisting of a combination of new equity and debt, will support an investment grade rating and provide long-term financing flexibility. 
"This acquisition creates the fastest growing and most dynamic growth pharmaceutical company in global healthcare, making us one of the world's top 10 pharmaceutical companies," said Brent Saunders, CEO and President of Actavis. "We will establish an unrivaled foundation for long-term growth, anchored by leading, world-class blockbuster franchises and a premier late-stage pipeline that will accelerate our commitment to build an exceptional, sustainable portfolio. The combined company will have a strong balance sheet, growing product portfolios and broad commercial reach extending across 100 international markets. Our combined experienced management team is dedicated to driving strong organic growth while capturing synergies and maintaining a robust investment in strategically focused R&D.
"This is a financially compelling transaction. With pro forma revenues in excess of $23 billion anticipated in 2015, this combination doubles the revenue generated by our brands business and doubles the international revenue of the combined company. Management is committed to maximizing the potential for the combined company to drive industry-leading top and bottom line growth. With this combination, we plan to transform the growth profile of our pharmaceutical business and have the ability to generate organic revenue growth at a compound annual growth rate of at least 10 percent for the foreseeable future," added Saunders. "The combination is expected to generate strong free cash flow of more than $8 billion in 2016 and substantial growth thereafter, which will enable the rapid repayment of debt. We expect that the combination will result in double-digit accretion to non-GAAP earnings within the first 12 months."