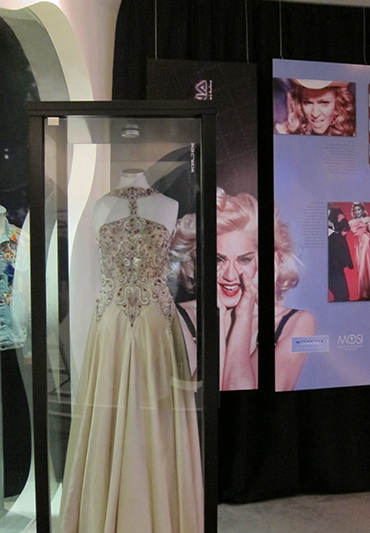 Get your Material Girl necessities… On November 7th and 8th, 2014 Julien's Beverly Hills Gallery will auction the best of the best from Madonna's iconic career.
The show includes the famous Marilyn Monroe inspired dress, stole and jewelry worn in Madonna's "Material Girl" video (dress and stole estimate: $20,000-$40,000), and over thirty of Madonna's period clothing pieces from Evita along with accessories and jewelry from the film (Various estimates: $800-$6,000).
In addition, costumes from A League of Their Own (Estimate: $3,000-5,000), The Next Best Thing (Estimate: $3,000-$5,000), her "Music" music video (Estimates ranging from $2,000-$6,000), and the video for "American Pie" ($1,000-$5,000) will also be included and on the auction block.
Julien's is also pleased to be offering over 175 lots from the personal collection of Ann and Nancy Wilson of the band Heart. Heart rose to fame in the mid-1970s as the Wilson sisters — lead singer Ann Wilson and guitarist Nancy Wilson — wooed the American public, with over 35 million records sold worldwide to date. This auction will offer a selection of stage and music video ensembles including pink bodice worn by Nancy Wilson in the 1986 music video for "These Dreams" and many stage worn ensembles of Ann Wilson's. Many record awards, hand-written track lists and stage used instruments are offered, including a vintage Hofner bass guitar with antique brown sunburst finish owned and played by Ann Wilson for the recording of the 1980 Heart single "Even It Up" and the 1998 Christmas album Heart Presents A Lovemongers' Christmas, as well as an Epiphone Les Paul Elite electric guitar owned and played by Nancy Wilson while on the road touring with Heart.
Rock 'n Roll is defined by the instruments used on stage and in the studio. There is a remarkable list of instruments being offered this November at Julien's Auctions. One of the top lots is a David Bowie stage played Takamine 12-string dreadnought acoustic/electric guitar used on his "Greatest Hits Tour" in 1990. The tour included 108 concerts over seven months in more than 80 cities around the world.
The Collection of Country Music Superstar Naomi Judd, featuring costumes and personal items from the award-winning singer/songwriter, will be represented in this auction. The collection includes a vast amount of custom made costumes and stage worn clothing from the career of Naomi Judd, along with personal items from the star's own collection, and items from her husband Larry Strickland's musical career with Elvis Presley. Costume highlights of the auction include a Naomi Judd TV worn velvet gown from her appearance on "Bob Hope's Bag Full of Christmas Memories" (1993), a Naomi Judd custom-made stage worn embellished ensemble worn while accepting the Top Vocal Duet Award at the 1991 Academy of Country Music Awards, an iridescent turquoise sequin Naomi Judd stage and CMA Awards worn ensemble (Badgley Mischka), The Judds Reunion stage gown and stage dress, a custom-made aquamarine satin dress worn by Naomi Judd circa 1999 with glass stones and organza ruffle trim. Among the many items being offered and certainly most sentimental is Naomi Judd's wooden Thomas Model 217 "Norman Rockwell" 1920's style replica radio from her personal collection. Other highlights include a custom Buck Owens American guitar gifted to Naomi Judd painted in red, white and blue with additional stars on the headstock and a plaque mounted on the body which reads "Naomi Judd/Bakersfield California/3-28-87/Your Friend, Buck Owens."
Lovers of music and art will be interested in the archival collection of items from artists known for their connection to the 1960s San Francisco music scene — Rick Griffin, Stanley Mouse, Alton Kelley, Dennis Larkins and Gary Grimshaw, whose careers extend out of the '60s and come into their own in the amazing collection of artwork, including many lots produced for the Grateful Dead, sketchbooks, logo lettering, paintings and finished artwork.
With over 700 lots from collectors all over the world, this sale is going to be one for the record books. The auction begins at 10:00 a.m. Pacific Time on November 7th, 2014.