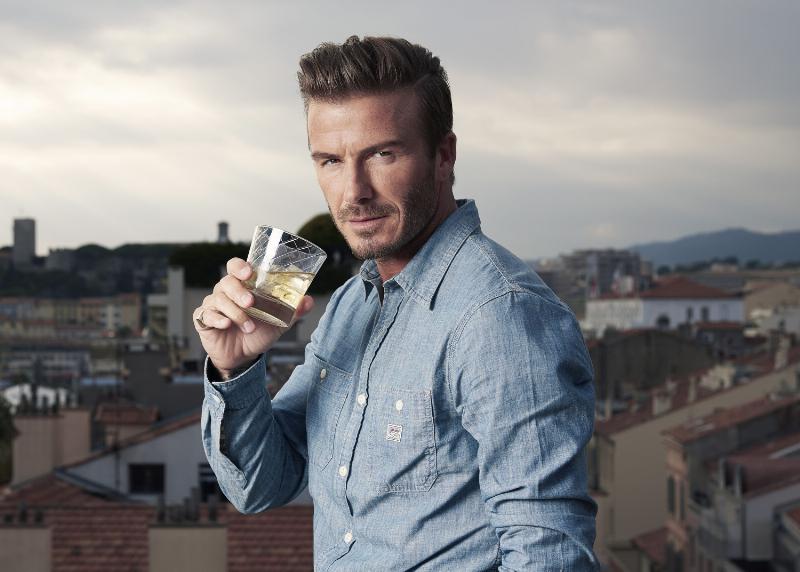 David Beckham, partner with Diageo in its new HAIG CLUB™ whisky, raised a toast to global travellers when he flew into Cannes today for TFWA World Exhibition & Conference 2014, the world's largest annual duty free trade show. HAIG CLUB is a new Single Grain Scotch Whisky from Diageo produced in partnership with global icon David Beckham and entrepreneur Simon Fuller. HAIG CLUB is as much built on tradition and heritage as it is a Scotch Whisky designed for our modern world. Built on nearly 400 years of distilling heritage, this is a Single Grain Scotch Whisky realized in a radical new way.  HAIG CLUB welcomes people to living well and drinking in moderation.
Beckham's surprise visit to the show was part of a world tour during which he is promoting HAIG CLUB, the distinctive and sophisticated new Single Grain Scotch Whisky developed in partnership with Diageo and British entrepreneur Simon Fuller. Diageo is a global leader in beverage alcohol with an outstanding collection of brands across spirits, beer and wine categories. These brands include Johnnie Walker, Crown Royal, JεB, Buchanan's, Windsor and Bushmills whiskies, Smirnoff, Cîroc and Ketel One vodkas, Captain Morgan, Baileys,Don Julio, Tanqueray and Guinness.In September he dropped into Changi Airport in Singapore to showcase HAIG CLUB cocktails, delighting travellers at the airport.
HAIG CLUB is available for travellers to purchase in selected duty free stores and on selected airlines globally from this month.
HAIG CLUB began rolling out in duty free outlets across the globe from October with a recommended retail price of £40 GBP /$62.50 USD for a 70cl bottle.